Dance Élargie: Dance Expanded
Boris Charmatz
FrancoDance UK
Sadlers Wells
–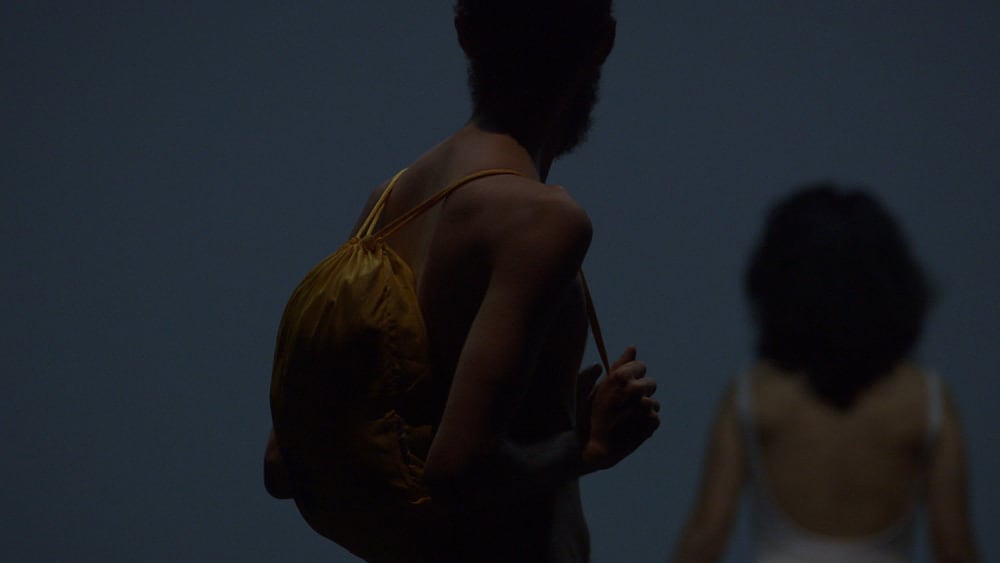 Impending tsunamis, juggling white balls, naked bodies and a giant inflatable cushion drifting into the auditorium recalling Slava's Snow Show are just a few snapshots from the diverse line up of ten-minute works, the second night of Dance Élargie: Dance Expanded. The programme is a result of a dance competition where "anyone can apply and anything can happen!" And indeed it does.
Family Honour, from Kwame Asafo-Adjei, opens the evening's movement drama in a piece that takes on domestic violence in the form of a couple sitting opposite sides of a table in physical deadlock. The pair battle together across a table, using hip-hop and closely choreographed fight techniques to create conflict. In the background lingers a man dressed from head to toe in black, a slightly odd distraction that takes away from the main action. The central frame of the couple works well, but it's a busy and confusing 10 minutes, where elements of speech in the form of a Pastor spouting psalms, distracts from the overall power of the piece.
Mur/Mer, dreamlike and impressionistic, stands out as an evening winner. Esa Chêne creates strong imagery and atmosphere through a beautifully controlled use of stillness, sound and lighting with real power. Performers enter the space one by one in slow motion, donned in swimming togs and sunglasses, carrying towels or inflatable, standing at the invisible water's edge. The trance-like momentum works in perfect time to the rhythm of the waves, as there is no dance and little movement. Participants fill the space with a sense of impending doom as the sound of the tide rises. Lighting, rich colours and the use of space, with the cast dotted around on towels or watching the tide, resembles a painting of a seascape from the fin de siècle that's come to life. It's also refreshing to see a piece with a cast of multigenerational performers, a reminder that this is rare in dance performance.
Other pieces prove pleasant enough if somewhat light of touch to leave long lasting impressions. Clementine Vanlerberghe and Fabritia D'Intino's Plubel puts on a piece for four topless women with their backs to the audience in a surrealist, arm-swinging union, until movement builds and they each break free of the restrictions of form. Then there's a toe-tapping, hip-hop breakdance piece from Ousmane Sy's Queen of Blood, where the troupe throw vast amounts of energy and infectious spirit into physically free moments all stomping feet, hair swinging and body locking. (La) Horde's To Da Bone offers a displaced, military strut in brilliant unison as if on army drill, only stopping to take on the audience's gaze with fierce and funny front as if to say, "cross us and we'll pummel you."
Oddly amusing and beguiling is Wreck—List of extinct species from Pietro Marullo. A black billowing balloon-like cushion is propelled across the stage by naked dancers, visible to the audience from time to time in freeze-framed tableau poses, only to be consumed back up inside the floating object. The nebulous thing eventually lands out into the auditorium, much to the glee of the younger audience, alongside tittering over stark nudity.
It's always refreshing to see a mix of dance alongside movement and performance art, but apart from one or two standalone pieces, some of the pieces felt a little empty of purpose, even if nonetheless each and every one executed performance with gusto and sheer enjoyment.
Reviewer: Rachel Nouchi