Darker Shores
Michael Punter
Hampstead Theatre
(2009)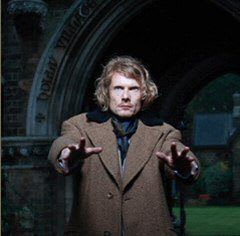 Last Tuesday morning, Tom Goodman-Hill was contemplating a well-deserved break between the Royal Court and West End runs of Enron.
This starship-level trouper responded to a panic phone call following the indisposition of Mark Gatiss. By the following Monday's night opening of Darker Shores, the plucky former Sir Lancelot in Spamalot was not only word perfect but gave an assured performance as anti-evolutionary natural historian Professor Gabriel Stokes, the leading figure in Michael Punter's new ghost story.
Punter, who wrote the ambitious Upstart Crows for the Young Pleasance Company with a massive cast, has the good sense to poke mild fun at this medium (please pardon the absolutely irresistible pun) and that is where Darker Shores is at its best.
During the period leading up to the interval, he works up his story of supernatural shenanigans effectively. The Professor has enlisted assistance from disreputable Dr Tom Beauregard, an oily spiritualist from the American South with a taste for hard liquor and, in the person of Julian Rhind-Tutt, more than a passing resemblance to General Custer.
This alliance became necessary following the Prof's writing trip to a haunted house in the Rye area of East Sussex, occupied by the funereal Mrs Hinchcliffe (Pamela Miles) and Vinette Robinson's very forward mulatto servant Florence Kennedy.
The setting is suitably eerie in the hands of designer Paul Farnsworth who proves appropriately that his three favourite colours are black, black and black. The story is equally dark as visitors travel in from the nether world.
Particularly before the interval, Anthony Clark and his cast build a wonderful cameo of Victorian life, epitomised by Goodman-Hill's stiffest of upper lips and inbred respect given to him by Mrs Hinchcliffe.
The interval could not pass by quickly enough for the audience to discover whether one or more ghosts would appear or the Americans spiritualist was a charlatan.
Without giving the game away at all, there is an explosive visitation that shakes not only the audience but the auditorium, thanks to the spectacular efforts of lighting and sound designers Tim Mitchell and Edward Lewis.
Michael Punter may have tried just a little too hard to add period authenticity with references to Lewis Carroll and, at greater length, Darwinism and the American Civil War. The consequence is that at a little over two hours, the play feels slightly too long.
Even so, for those that have had enough of pantomimes and the weekly openings of A Christmas Carol around London at the moment, this entertaining Christmas ghost tale may be the perfect antidote.
Playing until 16 January 2010
Reviewer: Philip Fisher