His Dark Materials
Adapted by Nicholas Wright from the trilogy by Phillip Pullman
Puppetry by Blind Summit Theatre
Produced by West Yorkshire Playhouse and Birmingham Rep in association with Centreline UK Limited The Quarry Theatre, West Yorkshire Playhouse, Leeds
(2009)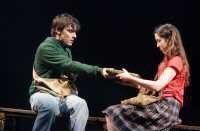 I haven't read the Pullman trilogy, but my young companion (14, very bright, very well read) is over-familiar with it. The play comes in two three hour stints and the theatre is packed. A very mixed audience, though grandparents and their kids' kids are noticeable. Overheard at the end of part one - enthusiastic ten year old rabbiting with energy and enthusiasm is interrupted by a dazed granny: 'I'm still a little bit confused. Can you start again?'
The story is long and eventful. It is powered by a mixture of religion, philosophy, cosmology, spiritualism and good old sci fi parallel worlds - well larded with anachronism and faux depth. It is also a classic coming of age tale greatly appreciated by adolescents of all ages.
It really is eventful, possibly too eventful for five and a half hours of theatre. There has been (my expert tells me) a little cutting, including one major character. I would have preferred a little more. The pace was uniform and rarely gave time for breath. When it did change pace this production was at its best.
I wont attempt a summary of the story, but a visit to the land of the dead (enough said) was magnificently staged and genuinely moving and funny at the same time. Otherwise we are talking kids' adventure movie. But very very good kids' adventure movie. And all the better for being staged rather than filmed.
This is a big production: 31 actors, 80 scenes and 100 costumes according to A.D. Ian Brown's blurb. However many, the acting was of a consistently high standard, as was lighting and, particularly, wardrobe. Accepting the limitations of a packed story, the theatrical story telling was brilliant. It filled the big Quarry stage, often using a horizontal split with action in two 'worlds' at the same time. And there were some exquisite bits of business; my favourite: an angel dies and this is shown by him shedding a silky costume, then slowly leaving the stage, dragging the rippling silver skin behind him.
And the audience loved all of it! So, a great coup which might well win over to theatre a cohort of young people. Last word to my aficionado: 'If I'd been just a bit younger I would have cried at the end.'
Running until June 20th
This production was also reviewed by David Chadderton at The Lowry, Salford.
Reviewer: Ray Brown