Das Rheingold
Richard Wagner
Bayreuth Festival
Festival Theatre
(2004)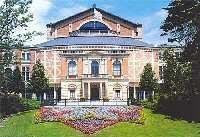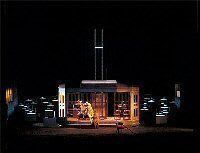 Jürgen Flimm's adventurous new staging of Wagner's Ring Cycle has begun its second hearing with a clear message: controversy over the Master's intentions is well and living in Bayreuth!
And angry chorus of boos greeted the curtain at the end of Das Rheingold last night, to be countered with a huge roar of approval from the majority of loyal fans in the packed Festival Theatre. And since argument, the subject of an 8,000 word article in the current Festival programme, was, and is, meat and drink to Wagner and all his works, the outlook must be yet another gathering storm.
Flimm's production promises a worthy contribution to the 130 years of Ring argument. Decidedly twentieth century in appearance, the competing figures are all boldly drawn beneath the awesome, sinsiter spectre in the cathedral form in Valhalle.
By the time the curtain veils our misty view of the troubled gods' faltering entry to their new palace, the familiar Wagnerian chords are ringing, firmly and clearly under Adam Fischer's baton, their warning of Fools' Gold. Fischer himself emerges blinking, owl-like, from those unseen depths which envelope all orchestra's at Bayreuth as if shocked by all the fuss.
Not so the visible protagonists in the first round of this lively contest. At their helm is Harmutt Welker, a pugnacious Alberich who stirs the easily prejudiced Festival audience into an orgy of foot-stamping delight.
Welker's vigorous performance, vocally as exciting as anything on stage, is a many-sided mischief-maker, from the charm with which he eases himself into the confidence of the simple Rheinmaidens to the bitterness of his curse in scene four.
A highlight of Das Rheingold is the appearance of Johann Tilli and Philip Kang as Fasholt and Fafner, giants in every sense, with singing which is surprisingly sensitive from such a height!
Amidst the squabbling of gods, giants and dwarfs, Mihiko Fujimura's mezzo Ficka is an eloquent counsel to the statesmanlike Wotan of Alan Titus, whose real moments in this unfolding tragedy are, as we know, still to come.
Das Rheingold, after all, demands emsemble playing from its singers and receives that here in generous measure.
Florence von Gerkan's costumes supply most of the detail and Erich Wunder's striking settings give the players plenty to do and the rest of us enough to see - an underwater world of maritime skeletons, a building site resembling an Olympian master plan, and a view of Valhalle that might be the Richard Wagner Allee approach to the Festival Theatre itself on a murky night.
The Cycle continues this Sunday with Die Walküre.
Reviewer: Kevin Catchpole