Das Rheingold
Richard Wagner
Royal Opera House, Covent Garden
(2004)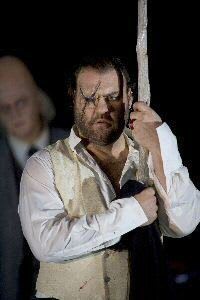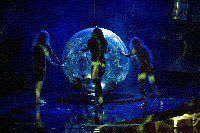 Keith Warner's new production of Der Ring des Niebelungen which opened last night at Covent Garden, is firmly rooted with the World Ash Tree beneath whose branches Wotan drinks from the spring of eternal knowledge.
And since Wotan is personified by distinguished Welsh bass-baritone Bryn Terfel in one of the most eagerly awaited debuts for a long time, a full house was prepared to give the prelude to the main business, Das Rheingold, every chance.
Not a bad idea as this begins to assume the prospect one of the most exciting accounts of Richard Wagner's masterpiece for some years. While the diminutive figure of Antonio Pappano may lack the hard won charisma of Haitink, the depths of the Rhein and the mystique of Niebelheim pour from the famous forces of the pit just the same.
Above, Warner certainly hasn't got everything right -Wolfgang Göbel's lighting is far too gloomy. All very well being mysterious but when we have to peer around the stage to see where the voices are coming from
Even Terfel is sometimes lost in the shadows, only a lone spear pin-pointing his whereabouts. Not that it matters in his case for here, if ever there was one, is a handsome, mellifluous Wotan on which the coming chapters of this famous role will surely build a rare nobility.
Philip Langridge's Loge is one of the great favourites of the evening. Red haired and mischievous, his is an engaging foil to Terfel's urbane Wotan. However, Saturday's first night audience may be found to have underestimated the Alberich of Günter von Kannen, veteran of 18 years at Bayreuth. A rousing and seriously Germanic interpretation - but then, why wouldn't it be?
Imposing shadows of the giants, Fasholt and Fafner are not quite matched by the real things though the fine singing of Franz-Joseph Selig and Phillip Ems certainly matches the roles.
The dramatic mezzo of Rosalind Plowright is ideal for a production in which the workshop evokes shades of Frankenstein with Will Hartmann's Loge as the mad scientist. Consequently, the shapely, finely sung maidens of Sarah Fox, Heather Shipp and Liora Grodnikaite appear truly as the innocents they are, while Jane Henschel's Erda is a reassuring voice amid the greed and violence around.
Thus far, Stefanos Lazaridis's design seems quite in tune with Wagner's musical imagery. Yet we have seen Rheingolds with promises of Valhalla before without delivery the future beckons encouragingly all the same.
This Royal Opera production of "Das Rheingold" can be seen at Covent Garden on 21 December 2004 and on 4, 7 and 10 January 2005.
Reviewer: Kevin Catchpole