David Byrne's American Utopia
David Byrne
HBO (USA)
Released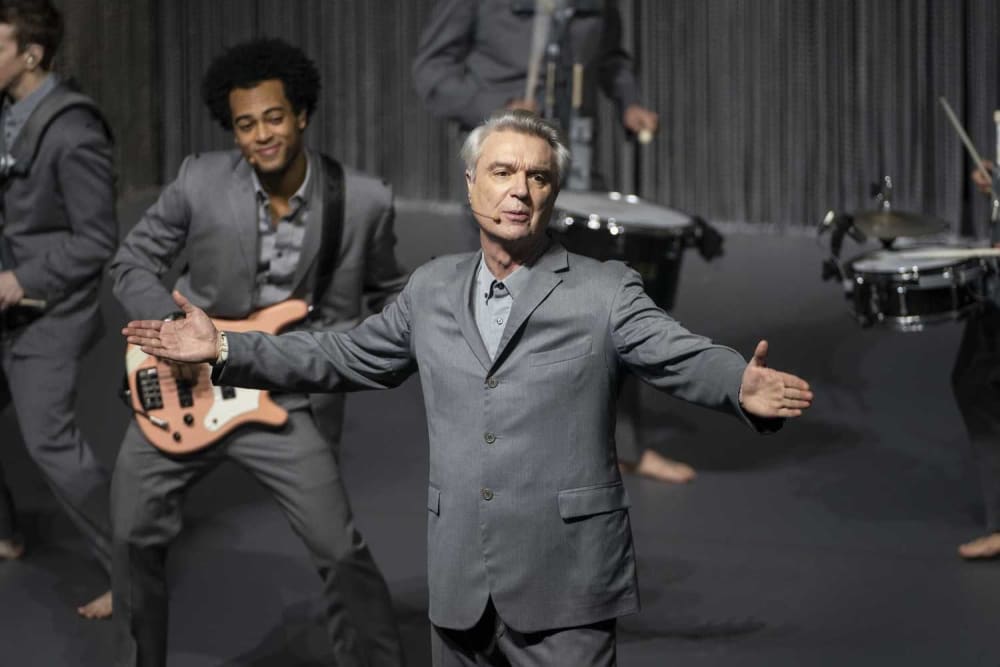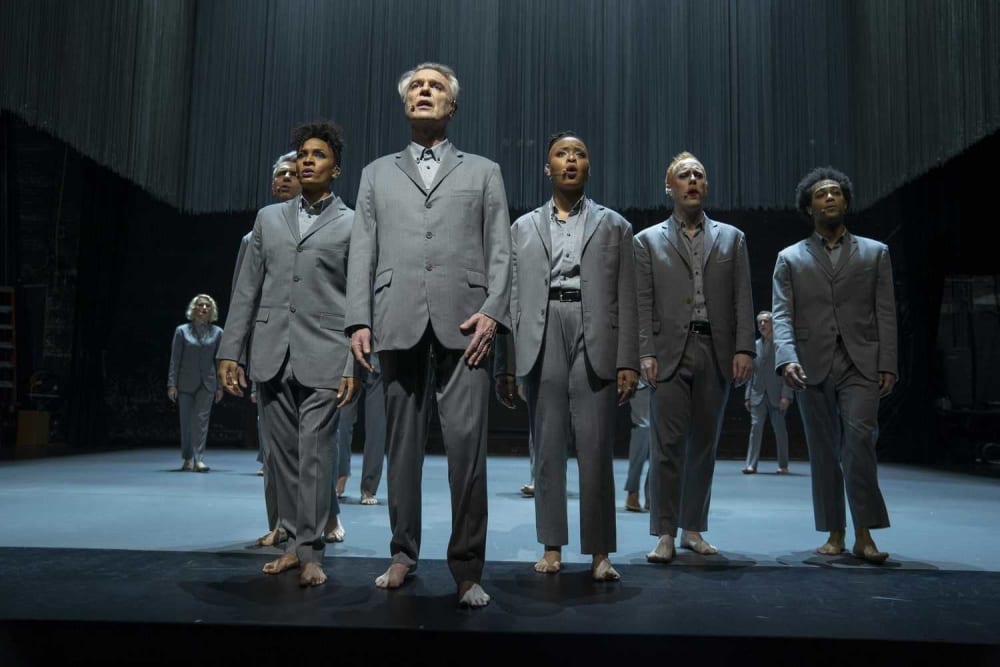 During its long, enforced Broadway interregnum, this popular show is making its US film debut on HBO this weekend (17 October) and is due to arrive in the United Kingdom in early December.
It is not easy to categorise American Utopia, which crosses over between the worlds of rock video, concert, quirky observational commentary and political polemic. Having found its run at the Hudson Theatre in the Big Apple summarily cut short in March, the current plan is to reopen 18 months later, although that depends on the course of the pandemic.
Fans need not shed too many tears since not only has the piece made it on to film, featuring a composite recording from live shows, but does so under the esteemed directorship of Spike Lee.
Broadway is always keen to explore new genres, particularly those that have big-name front men likely to sell out tickets at ludicrously high prices. First, there was Springsteen on Broadway and now David Byrne of Talking Heads fame has taken the plunge with a show based on his 2018 solo album of the same name, supplemented by a selection of songs from his own and the band's back catalogues, with an overall linking theme of lost connections.
An evening that runs to 1¾ hours opens in stunning fashion as, backed by a kind of rainfall effect using lights on chain curtains, Byrne coolly but tunefully considers the working of the brain, thankfully holding a model rather than the real thing. Like the band, he is dressed in a stylish grey blue suit and shirt but is barefoot.
Much of the music is iconic, starting with "I Know Sometimes a Man Is Wrong / Don't Worry about the Government", which anatomises an archetypal contemporary American life in around four minutes and is stylishly presented by quintet stepping around light squares, the keyboard player showing great bravery since it is supported horizontally on a hefty harness for the remainder of the performance.
The show really hits top gear with the lively "Slippery People", by which point Byrne has donned a guitar and his ensemble risen to 12 including no fewer than six percussionists. Inevitably, the audience responds most enthusiastically to old favourites such as "Burning Down the House", "Once in a Lifetime" and the encore offering "Road to Nowhere", all of which not only benefit from new orchestration but also superb direction and choreography. Other highlights include the joyous "Toe Jam" and Janelle Monáe's politically-charged "Hell You Talmbout".
Throughout, there is imaginative film work, especially utilising a camera in the theatre's flies, giving the kind of bird's eye view that no ordinary punter would ever see.
Rather than crediting a director, Alex Timbers, whose biggest hit to date has been Moulin Rouge, is referred to as a production consultant, suggesting that he and Byrne work together on the staging and compilation. The music is enhanced by witty, insightful choreography from Annie-B Parson.
What might have been a dry evening on the narrative front benefits from a spoken delivery style that is mildly kooky in the manner of a laid-back stand-up comedian.
Although the general mood is thoughtfully uplifting, there is something of a dampener when its lead shares his depressed thoughts about the parlous state of the United States and its residents, most especially given his barely concealed feelings about the inadequacies of its current leadership.
Ultimately, this is a show that is aimed at Talking Heads fans, but, with its messaging and music both having wider appeal, should prove popular with anyone that loves rock music and/or a good show.
Reviewer: Philip Fisher