A Day at the Racists
Anders Lustgarten
Finborough Theatre
(2010)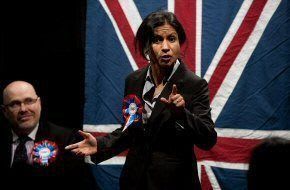 For anyone who regards political theatre as dry and worthy, a trip to see A Day at the Racists should prove a shocking but enthralling eye-opener.
Anders Lustgarten has written the kind of political fantasy that socks you straight between the eyes. It does so by imagining the election campaign that will start in the next few weeks and, in an East London constituency like the one that he depicts, could well end with a Member of Parliament representing the BNP.
The scary thing is that it is not just the violent bigot Tony proclaiming his "long, lonely job of elimination" that leaves you in fear, though thanks to a marvellous piece of character acting by Gwilym Lloyd he might, it is also his impeccably reasonable colleagues.
The play may be a little schematic but, in hanging its political debate on a family drama, it makes a more powerful impact.
The patriarch is Julian Littman's Pete Case, a lifelong socialist and Union agitator, whose low self esteem and failure to find a council house for his single parent son, makes him listen to the straight talking Gina.
Thusitha Jayasundera, in compelling form, plays a BNP candidate who, until two weeks ago, would not even have been permitted to join the party, let alone represent it in parliament. In the mouth of the far from supportive Tony, Gina White is a "cocky little half breed" or in politer parlance, the acceptable face of an unacceptable party.
Her line in political patter is terrifyingly plausible: "We are about ordinary people." It is therefore all too easy to see why the dispossessed could be won over with lines about "them" the people who have taken "our" homes and "our" jobs, especially when the mainstream parties seem to be jousting over which can seem least electable.
Pete's son Mark, played with both great sensitivity and rich humour by Sam Swainsbury, has a more balanced view of life, as well as a liking for women of Afro-Caribbean origin. He also has an interesting view of authority, hitting on his daughter's teacher at a parents' evening.
The play builds to a gripping climax as the compromised Pete is forced to confront his own weaknesses, mostly motivated by a desire to help his family.
It is all to the credit of Julian Littman that he manages to elicit sympathy for a character who should be pretty detestable, if only for a level of naivety that borders on the culpable.
The evening is impressively directed by Ryan McBryde, who opens with a wry song and a few jokes about our diverse society to warm us up then maintains the energy through swift transitions between scenes.
A Day at the Racists marks Anders Lustgarten as a real star in the making. He is that rarity, a playwright with the ability to drill down into the major issues of the day using razor sharp dialogue and allusions from the front pages of the last few weeks, while at the same time keeping the audience on the edges of their seats.
This play, which represents a major contribution to the debate about multiculturalism, is yet another success for the Finborough, a theatre that has a great record of discovering fresh talent and belies its size with the consistent programming of the highest quality and deserves a sell-out run.
Until 27th March. At the Broadway, Barking, on 16th April.
Reviewer: Philip Fisher