Days to Come
Lillian Hellman
Mint Theater
Mint Theater at the Beckett Theater at Theater Row, New York
–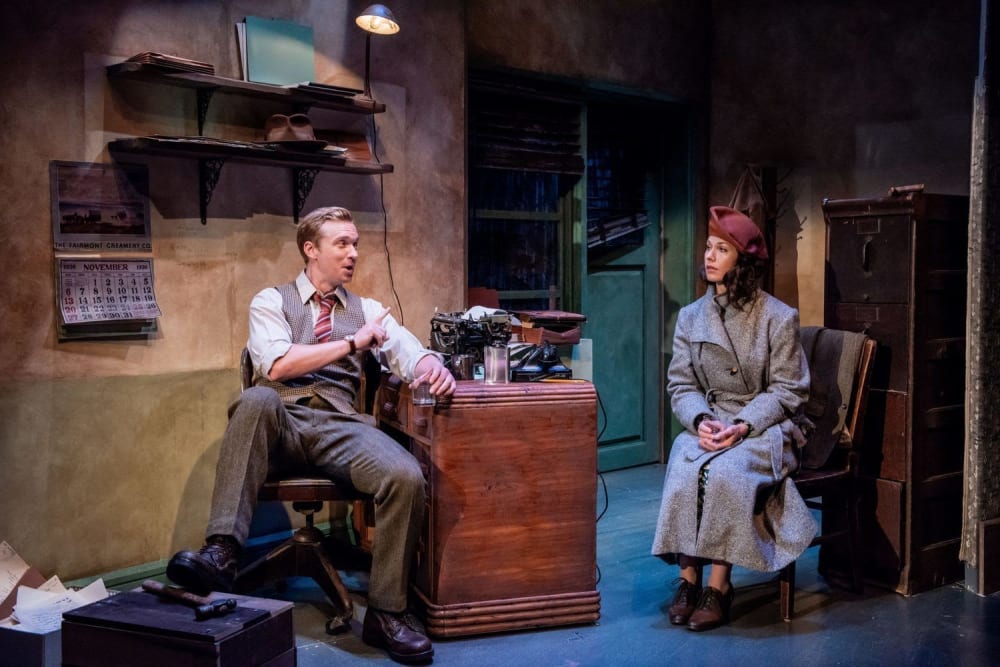 New York's estimable Mint Theater commences its 2021 season of online broadcasts with a production of Lillian Hellman's flawed but fascinating second play performed and filmed, under the direction of J R Sullivan, in front of a live audience in August 2018.
The drama commences in a town outside Cleveland, Ohio, at a moment of crisis in 1936, as a strike threatens the future of the brush factory run by the Rodman family. We follow most of the ensuing events from their living room, home to a typical mid-20th-century theatrical collection of eccentric misfits and meticulously created on stage by Harry Feiner. For the 1¾-hours duration, there is an opportunity to observe the dispute from both sides, although Miss Hellman then muddied the waters with a series of additional plot-lines.
In one corner, desperate to keep their business afloat, are the squabbling Rodman siblings, Mary Bacon playing eccentric Cora and the excellent Larry Bull as staid Andrew. The duo receive what might best be described as ambiguous support from their oldest friend Henry and Andy's sparky wife Julie, respectively portrayed by Ted Deasy and Janie Brookeshire.
In the other stand the aggrieved workers, determined to protect their livelihoods. While the union leader in the factory, Chris Henry Coffey's Tom, would be happy to compromise with Andrew, whom he has known and respected all his life, if only the management could afford what we would now call living wage, the union's organiser drafted in from the city, Whalen played by Roderick Hill, has a more worldly view.
What might have been a relatively amicable negotiation takes on a much darker hue thanks to an ill-judged invitation from the family to a group of gun-toting strike-breakers, shipped in after three weeks to get the factory back up and running. They are led by Dan Daily as hard-talking private detective Wilkie, a man who exudes the kind of menace that one might more normally associate with a well-bred gangster and arrives complete with a pair of stereotypical heavies for effect.
This is the classic stuff of drama and must have held added significance for audiences 85 years ago at a time when the Great Depression was a fact of life rather than an entry in the history books. What might have been a relatively simple political drama or piece of agitprop, perhaps combined with a little bit of romance and familial discontent, is turned on its head by one tragedy that predictably engenders more. By the end, almost everybody involved is shaken with their lives changed irretrievably.
There are some sparkling dramatic moments and much to commend in the underlying sentiments in a series of set piece speeches, which show the difficulties faced by a class-ridden society still struggling to recover from the ravages of the Depression. However, despite the fact that it has been produced on Broadway twice, Days to Come feels as if it would benefit greatly from a couple of simplifying drafts that might have turned it into a far more coherent and satisfying drama.
As ever, the film work is excellent, although the close-ups can make some of the acting feel a little large, a quibble that may have been less apparent in the theatre.
Mint Theater has been a consistent star performer during these trying times with an exciting programme lined up for the first half of 2021. However, in order to continue, the company needs support so if you get a chance to watch yet another worthy revival, do think about making a contribution to what is a very worthy cause.
Reviewer: Philip Fisher