Days of Significance
Roy Williams
Royal Shakespeare Company
Tricycle Theatre, Kilburn
(2008)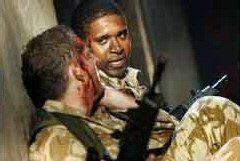 Roy Williams is making a bid to be the most prolific playwright in London. No sooner had Joe Guy closed at Soho than Baby Girl opened at the National almost instantly followed by this RSC commission. The good thing is that all of these plays have had much to commend them.
Days of Significance takes on a subject about which it is hard to believe that there is anything more to say, unless anyone is willing to throw their hat into the ring supporting the occupation.
The war in Iraq has been explored from every other angle and, after Gregory Burke's supreme achievement with Black Watch, finally coming to the Barbican in the summer; it is a brave writer who even tries to compete.
Strangely, this play bears more similarities to the play that won this playwright the Evening Standard Most Promising Playwright Award in 2001, Clubland, than it does to many of the dramas about British and American troops behaving badly in the Gulf.
The first and last scenes are set in the environs of the seediest of nightclubs in suburban London. There, drunken kids love up and beat up as a way of enjoying their Friday nights. The difference in the opening scene is that they fall into two very distinct camps.
Jamie and Ben, played by Craig Gallivan and Jamie Davis, have signed up for the Army and will be leaving for Basra later in the week. Rather than admiring their pluck, their mates, led by Luke Norris' mouthy Danny, have just come back from an anti-war march, to establish their credentials when they arrive at university.
Some things never change though and just like the Tommies going off to the front, these boys manage to find one night stands in the under-clad persons of Trish, played by a winning Pippa Nixon, and Hannah, a more thoughtful Claire-Louise Caldwell. More unusually these days, over the next six months the girls remain solidly in love with their fellas.
The early scenes in Iraq demonstrate that the immaturity of the boys has carried through to the war zone. It is only when we move on five months that they have become hardened, desensitised soldiers with an ingrained hatred of the enemy that eventually cost lives and leaves Jamie preparing for a court martial.
By any standards, he is uneducated and quite possibly educationally or even mentally subnormal judging by his catatonic reactions to warfare. This boy might well escape his fate, on the basis that he is so obviously the kind of cannon fodder that only follows orders, even when they are illegal. By way of contrast, the far more culpable Ben achieves the automatic heroism that comes with martyrdom for one's country.
Roy Williams makes several telling points about this never-ending war. First, rather than soldiers, the Army is significantly populated by young boys who thought they were just out to a bit of fun, rather like the Friday night brawl portrayed with remarkable conviction thanks to the talents of fight designer Malcolm Ranson.
Next, we see how easy it is for soldiers to get caught up in what to the rest of us would seem like barbaric behaviour but for them is just supporting your mates. Finally, the brutality of warfare and the impact it has on those around is brought home extremely effectively.
This becomes particularly clear in the final act, set at the wedding of Clare (played hilariously by Beverly Rudd) and Steve (Simon Harrison). Finally, emotional dams burst as the truth about our national heroes is debated with the gloves off. Also present is the only representative of the older generation, James Clyde doing a fine job as Lenny the burger man, a sour loser with philosophical leanings.
Whether the world needed another play about Iraq might be open to doubt but with this combination of Brits behaving badly at home and at war, Roy Williams once again demonstrates that he can get to the heart of an important subject.
Reviewer: Philip Fisher