Dead Men's Eyes
M R James
Nunkie Theatre Company
The Lowry, Salford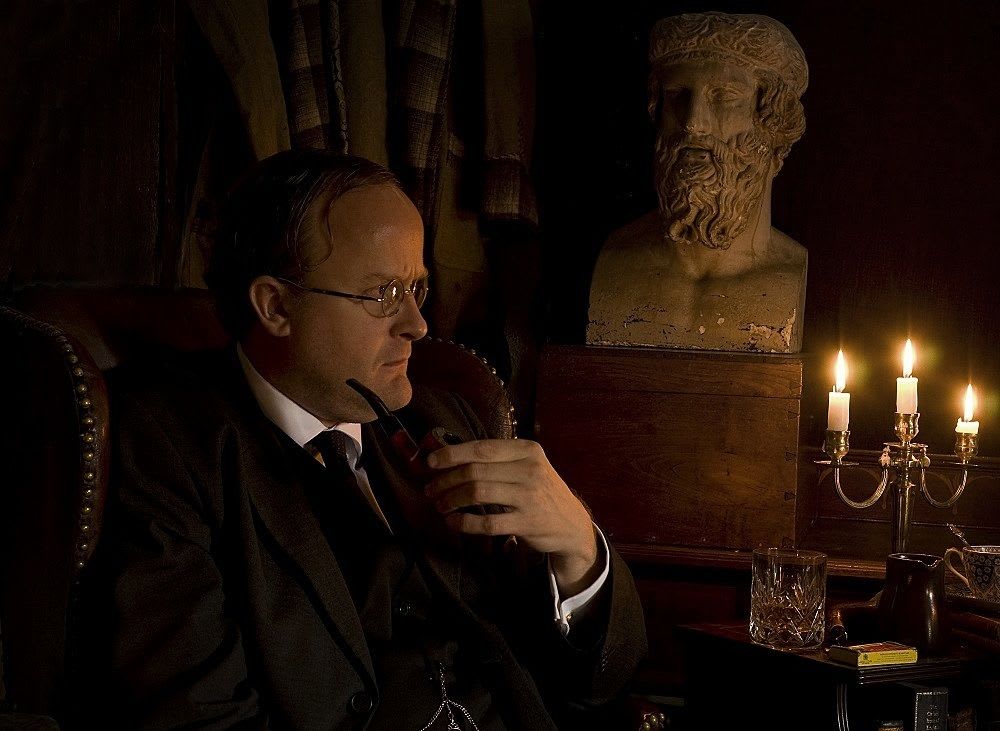 M R James is regarded as not only one of the greatest ghost story writers but also as a master of the art of storytelling. Whilst his stories can be enjoyed on the printed page, James, aware of their dramatic potential, would read them aloud at Christmas to friends. Nunkie Theatre Company sets out to recreate the mood of these intimate and spooky events with a series of one-man shows that sole performer Robert Lloyd Parry has been touring since 2006.
The emphasis is on authenticity with the pre-World War I period recreated by a simple set: chair, table, drinks and—most essentially—candles. The entire show is performed in flickering candlelight so that, in his dark suit, at times Lloyd Parry is absorbed into shadow. One might expect this to place limitations upon his performance—restricting gestures to the most basic—but actually the gloomy lighting serves the material perfectly. Seated in an apparently mundane environment, Lloyd Parry plays a narrator whose stories gradually move into incredible areas and his spare gestures become those of someone struggling to convey concepts which really are beyond everyday comprehension.
Despite the spooky nature of the stories, Lloyd Parry is a genial narrator and the atmosphere, initially at least, is chatty and informal. He tweaks the text to acknowledge we are listening to the tales on an October night in Salford. Lloyd Parry rises to the challenge of the tales featuring chunks of Latin phrases by behaving as if the audience is fluent in that language and casually enquiring whether we would like to have the Latin repeated.
Lloyd Parry is aware that humour, however inappropriate, is often used as a defence mechanism against horror. Tormented by a nightmare in which a hand bursts out of the ground, the narrator distractedly wonders if it would be polite to offer a handshake.
M R James had a deep respect for learning and his characters all tend to be educated and inquisitive—even if they go too far in their search for knowledge. Dead Men's Eyes comprises two tales and takes its title from A View from a Hill in which the narrator discovers the reason why a pair of handmade binoculars reveals grim scenes from the past. James excels in drawing out the horror underneath ordinary, even idyllic places: a next door neighbour who practices necromancy or a pastoral wood that conceals cursed objects.
There is a different tone between the two stories—in the first, a mystery is explained even if the narrator finds the answer leaves him disturbed. The second story, The Treasure of Abbot Thomas, touches on more primal fears as a treasure-hunter unearths and literally embraces something utterly terrifying. The contrast between the stories shows Lloyd Parry's skill as a performer. While telling the second story, his voice rises to the point of hysteria and his gestures become panicked, like someone struggling to escape from a straitjacket, as he recalls confronting the repulsive guardian of the Abbot's treasure.
We may no longer have a ghost story writer who can achieve the standard set by M R James but Robert Lloyd Parry proves the art of storytelling is alive and well.
Reviewer: David Cunningham