A Midsummer Night's Dream
William Shakespeare
Bard Unbound
Hampton Court Palace
(2004)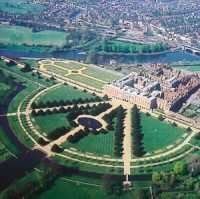 Two factors conspire to frustrate the remarkable achievement of the Bard Unbound Theatre Partnership in staging A Midsummer Night's Dream in the grounds of Hampton Court Palace for the very first time since Shakespeare's own company performed it for James I 400 years ago.
The first is the vision of that original performance in the crowded Great Hall on New Year's Day 1604 by a company led by the Bard himself. The second is the more practical impediment of multiple settings spread around the immaculate palace gardens.
I cannot say how stressful the employment of scattered stages is to the energetic young players. However, while it may be all very well for those of us spectators keen to shed a few pounds before the annual holiday, I'm not sure that goes for those with families and picnic bags, not to mention the seriously elderly. "Where have they gone now?" asks a lost groundling.
"They're in the walled garden" replies the beautifully costumed lady, "and you've just missed my big speech!" She may not have said quite that but the thought was there.
Part of the reason for the chase as audience hunts play, is the fact that this co-production by Lara Muth and Jessica Brewster, both master's students at RADA is fast moving and disciplined. Typical of a smartness that imbues the whole company is John Paton's strong performance as Bottom/Piramus. The excellent costume design is by Julie Bowles.
Some of the doubling is strange, in particular Hungarian Gergo Danka as Puck/Theseus. Both are capable performances in themselves but the combination makes a wordy load for a mid European accent that at times weighs heavily on the poetry.
The lovers Michael Castleton (Lysander), Laura Hilliard (Hermia), Scott MacCallum (Demetrius) and Laura Martin-Simpson (Helena) are splendidly cast and would almost certainly blossom in the luxury of occasional relaxation of the frenetic speed at which the performance proceeds.
This otherwise worthy attention to pace affects also the Mechanicals whose business threatens to be hugely entertaining - if only they had the time!
Chris Hampson is an industrious Oberon with Gwynne McElveen a pleasant, underplayed Titania while their fairies lurk and play inventively all around us.
O for a single stage to relax and enjoy this otherwise delightful production and, in particular, let in the charm! I began to pray for rain, in the event of which, the company retires indoors and gives us something much closer to the 1604 version. No candles perhaps - and certainly no King but, after all, the play's the thing
"Dream" plays at Hampton Court on Friday, Saturday and Sunday afternoons throughout August
Reviewer: Kevin Catchpole