Dear Evan Hansen
Book by Stephen Levenson, music and lyrics by Benj Pasek and Justin Paul
Noël Coward Theatre
–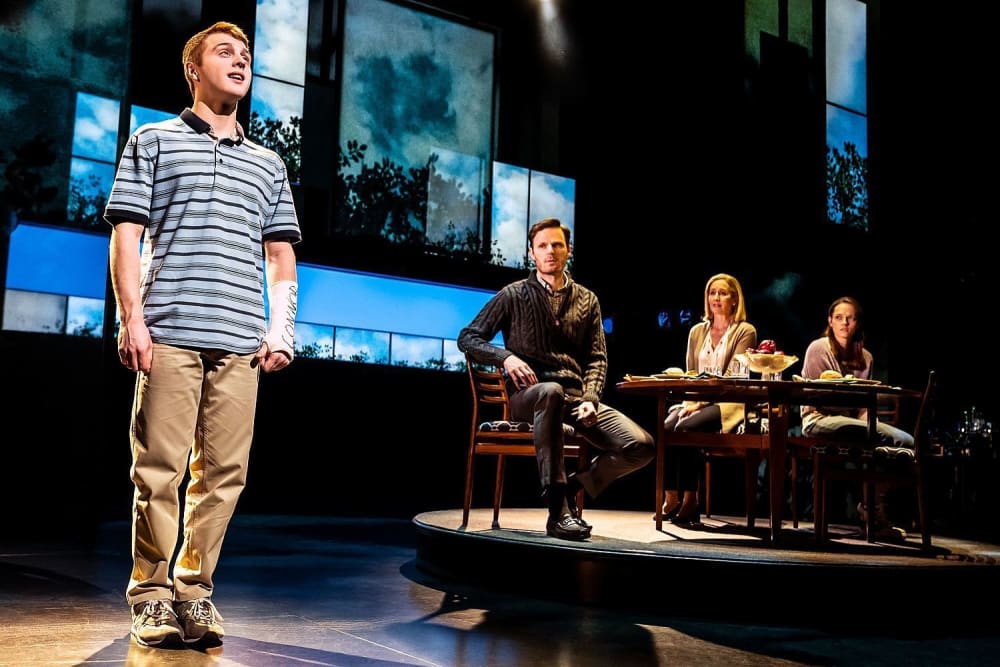 You can't always trust awards panels, but the fact that Dear Evan Hansen was the winner of no fewer than six Tonys in 2017 including Best Musical suggested that it was going to be something special.
Londoners have had a long wait for a production that retains an American backstage team led by director Michael Greif, strongly supported by scenic designer David Korins and his projections colleague Peter Nigrini.
Indeed, the first thing that visitors to the show will notice is a bank of TVs / computer screens that play an integral part in proceedings that extend to just under 2¾ hours.
This is one of those small-scale musicals that Americans do so well, taking a dark topic and turning it into a tragicomic evening of song and dance while utilising a cast of only nine performers.
They are triumphantly led by Sam Tutty in the title role who, like his leading lady Lucy Anderson, is making a West End debut.
The plotting might bring to mind a combination of The Curious Incident of the Dog in the Night-Time and Ghost. It relies on a great deal of contrivance and coincidence but, somehow, thanks primarily to the psychological accuracy of the characters created, becomes deeply moving and will have many audience members in tears before its conclusion.
Teenager Evan Hansen is a twitching nerd with serious psychological problems. He stutters, struggles to talk to strangers and generally eludes human contact. As is the way of things, such behaviour antagonises his school colleagues and turns him into a bullied outcast.
Early on, Evan is even the butt of the equally unpopular Connor Murphy, played by Doug Colling. However, with a great sense of irony, when this wealthy, drug-addicted misfit commits suicide, due to a misunderstanding of epic proportions, Evan is projected into the kind of new life that normally requires a magic potion or deus ex machina.
By this point, the wonderful rock (with a little hint of country) score will already have hooked everyone in the theatre. The second song, "Waving through a Window", is a moving solo that has become an instant classic, leaving behind a three-note riff that recurs throughout the remainder of the evening.
Gradually, thanks to the power of social media and the kind of unintentional dishonesty that arises if you are misfit geek with no social skills, our protagonist becomes an unlikely cult hero.
Ironically, rather than pleasing his hard-working, loving mother played by Rebecca McKinnis, this causes her unexpected pain and embarrassment.
The same could be said for most others with whom the boy comes into contact, although he is practically adopted by Connor's parents (respectively Lauren Ward and Rupert Young), while Miss Anderson playing the dead boy's hot kid sister falls in love, helped by the convenient disappearance of almost all geeky traits.
The story is heart-warming without ever getting too syrupy and the production qualities are high. In particular, the score is superb, with songs such as "For Forever" and "You Will be Found" good enough to be the high point of most musicals.
Yet again, an imported American musical is likely to be one of the highlights of the season, as well as launching what should be highly successful careers for Lucy Anderson and particularly Sam Tutty, who has a fine musical voice and already knows how to work an audience to tremendous effect.
Reviewer: Philip Fisher