Dear Mr Beckett: Letters from the Publisher
Barney Rosset
Opus Books
Released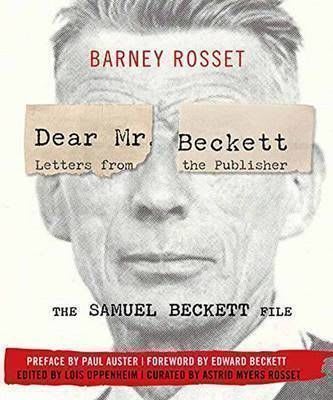 Dear Mr Beckett is sub-sub-titled "The Samuel Beckett File", which is a pretty good description of the book's contents.
Effectively, editor Lois Oppenheimer has compiled a kind of scrapbook containing diverse data about the great Irish playwright including a wealth of correspondence between Samuel Beckett and his main American publisher, Barney Rosset.
Rosset had the good taste and good fortune to identify Waiting for Godot as something worth pursuing long before it achieved fame or perhaps a better word might be notoriety.
He then contacted the playwright and began a long correspondence and friendship, both of which continued until Beckett's death.
The pleasure of reading this book lies in a number of different directions. First, it is a sometimes indirect but often informative way of learning a great deal about the mentality of this iconic but iconoclastic writer.
Next, it gives readers a unique opportunity to understand both the commercial and social side of the publishing industry in the second half of the last century.
In addition, we discover a great deal about Barney Rosset, a wonderfully colourful character who seemed to enjoy trouble, whether in the form of women, literature or life in general.
Not only did he publish banned books by Beckett but also Lady Chatterley's Lover, Last Exit to Brooklyn and Tropic of Capricorn, each of which ended up in court in one country or another.
Rosset was dedicated and determined but, as a result, made enemies even of long-term friends, partly because he was not above taking any necessary step to secure books for his publishing house, Grove Press.
Even there, life was not a perpetual bed of roses. Rosset took the company over in the early days before it was fully established, led it from the front through good times and bad across a span of 35 years before being unceremoniously dumped when the publishing house was taken over by Ann Getty and George Weidenfeld.
What initially seems like a forbidding, large format paperback becomes a fascinating and informative read, although there is an occasional element of repetition when the same story is told using several different sources.
Even so, for anyone interested in the Beckett legend, not to mention the world of publishing, Dear Mr Beckett should be compulsory reading.
Reviewer: Philip Fisher