Dearest Darling Sophie: Letters of George Devine 1940–1945
Edited by Harriet Devine
Book Vault
Released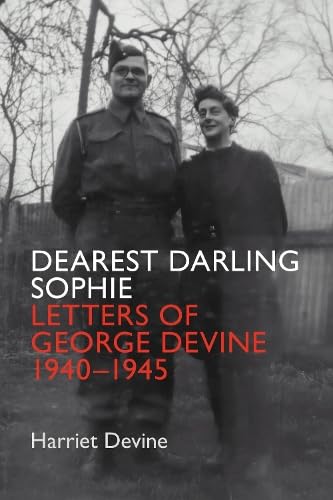 George Devine is now best known as the artistic director of the English Stage Company at the Royal Court who welcomed a whole flotilla of Angry Young Men in the 1950s and, in doing so, changed the theatrical landscape forever.
As a young man in the 1930s, after boosting the theatrical scene at Oxford, he worked closely with Michel St Denis and Glen Byam Shaw building a strong reputation as an up-and-coming actor and director.
His wife Sophie was one third of Motley, the most sought-after designing company of the period.
As such, the couple mixed in the most esteemed theatrical circles always seeking to be fresh and original in their work but accepting that sometimes it is necessary to appease commercial tastes if one is to enjoy a comfortable life in London.
Everything changed in 1939 with the advent of the Second World War that divided the couple for five years and serendipitously generated a great volume of correspondence, one side of which has been collected in this new book.
The editor is also one of the stars. Harriet Devine was born in September 1942 but instantly became one of the main topics of interest in these hundreds of letters sent by her father to her mother.
In addition to collecting and editing the letters with copious, helpful footnotes, she also provides an overall introduction plus short pieces at the start of each section, which add context to the story.
From a theatrical viewpoint, much of the interest lies on the periphery. With her business partners stranded on the far side of the Atlantic, Sophie continued to work intermittently, helping out the biggest names of the day including John Gielgud and Binkie Beaumont.
In many ways, despite inevitable discomforts, George lived a blessed existence, bored but safe as war raged. Initially, he was billeted in England, swiftly establishing himself as a highly efficient administrator, the perfect skill set for the artistic director of any theatre. Later, he transferred to India and then Burma, still largely observing the war at a distance but getting closer to danger than might have been comfortable towards the end.
While he could do little beyond arranging the odd revue or concert party, the theatrical community was his milieu, as demonstrated by the list of friends with whom he regularly exchanged news. In addition to Gielgud and Beaumont, the supporting cast included Laurence Olivier and Vivien Leigh, Edith Evans and Peggy Ashcroft with numerous others making occasional appearances.
While the theatre business is of interest, especially towards the end of the war as Devine began to make plans for future, for many, the main attraction of Dearest Darling Sophie may be its depiction of arty folk in wartime.
We have all suffered from the ravages of the pandemic in recent years, but those that moaned incessantly about the deprivation should try to imagine what it would have been like to be isolated on a different continent when your daughter was born and not have any opportunity to meet her until she was two.
In that same period, husband and wife were separated but remained loving, her mental state sometimes sorely tried, particularly during a serious bout of postnatal depression.
As part of the officer class, these were the relatively privileged, strongly supported by friends and family. Just imagine how hard it must have been for those from the lower classes with no money, bombed out of house and home and uncertain when or whether they would ever meet again.
Harriet Devine is to be congratulated, not only for being a truly delightful little girl all those years ago but also the inspiration behind a charming book that is equally informative and entertaining.
Reviewer: Philip Fisher