Death Drop
Holly Stars based on an original idea by Christopher D Clegg
Tuckshop & Trafalgar Theatre with Carter Dixon McGill Productions
The Lowry, Salford
–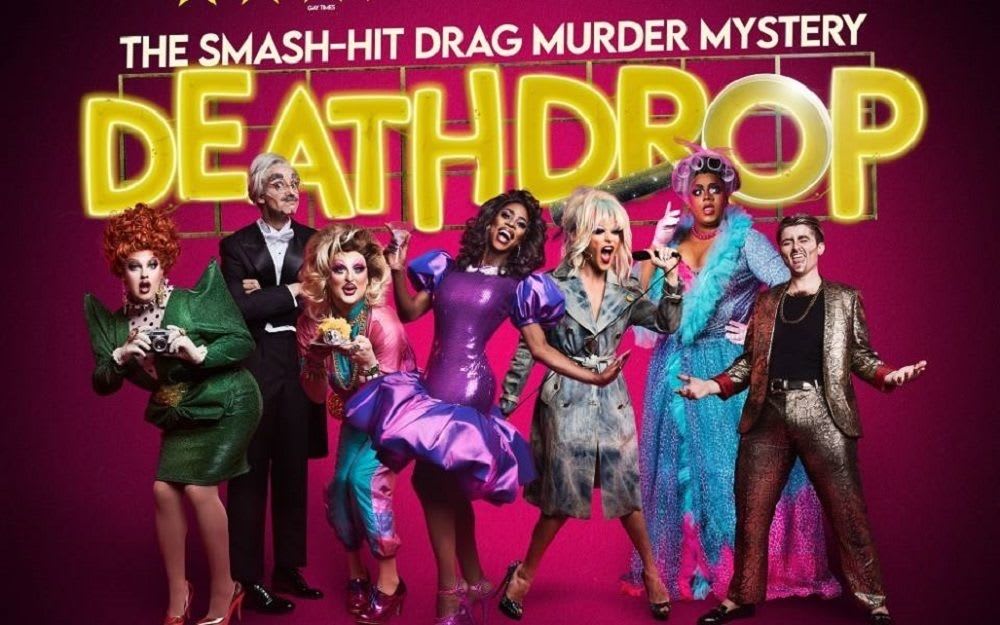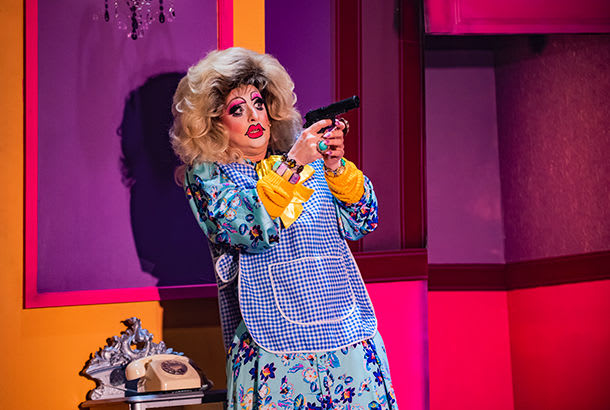 The set-up for Death Drop suggests a classic murder mystery. Justin Williams's set is a traditional upper-class drawing room, with heavy furniture and even a moose head mounted on the wall. Holly Stars's script is populated by the standard clichéd characters: stressed-out hostess, misogynist politician, faded pop star and gutter journalist. Of course, a storm is brewing, and the lights have a habit of failing.
The twist is the characters are all played by drag artists. This is never acknowledged in the play; the cast act in character according to the script rather than perform bits of their solo acts. Drag culture is, however, very much part of the show.
To celebrate the tenth anniversary of the wedding of Prince Charles and Lady Diana, Lady von Fistenburg (Vinegar Strokes) organises a party at Tuck Island, a remote, hard to reach location. Guests include TV personality Summer Raines (Ra'Jah O'Hara), shady reporter Morgan Piers (Karen from Finance) and pop star Shazza (Willam O'Hara). Catering by the Bottomley Sisters (author Holly Stars) is decidedly cut-price and no sooner have the celebrations begun than murder raises its ugly head.
Death Drop is not shy about paying tribute to influences. The score, by Flo and Joan, includes startlingly good pastiches of a James Bond opening number, Kylie Minogue's back catalogue and 1980s soft rock anthems.
The main influence is, however, drag culture. Characters not only burst into song, they also pose and lip synch. Every entrance necessitates a change of clothes and a character pausing to milk the applause for Isobel Pellow's completely over the top costume designs. Ra'Jah O'Hara, in particular, is stunning in a variety of guises and the ridiculous shoulder pads modelled by Karen from Finance certainly capture the period in which the play is set.
Director Jesse Jones aims for an ironic, knowing tone. The show is set in the early 1990s and every opportunity is taken to innocently predict a glowing future for, say, the Royal couple and Jimmy Savile which the audience knows did not materialise. A politician argues he could not possibly commit murder with his soft, Conservative hands. Although done up to the nines, Vinegar Strokes's somewhat desperate Lady von Fistenburg gives the shady impression of being mutton dressed as lamb.
Although Death Drop succeeds as a celebration of the drag scene and contains all the elements for a successful parody, the latter do not always mesh together to create a mood of consistent hilarity. Some gags outstay their welcome. Granted, drag humour can be vulgar, but once you've heard one extremely graphic joke about a toilet malfunction you've heard them all.
Some of the jokes seem to have been included on the off chance they will be successful rather than worked through to a satisfactory routine. A sequence involving a run of tongue twisters might work better played at faster speed, with the cast competing to out-do each other and giving a nod and a wink to the audience. It takes some time before it becomes apparent a running gag involving thunder obscuring the word 'murder' is intended as a poke at the sound technicians missing their cue.
Although Death Drop is a hit with the audience, it depends too much on the novelty of using drag artists for its popularity. To succeed as a comedy or a thriller would require some revisions to the text and a faster pace.
Reviewer: David Cunningham