Death of England: Face to Face
Clint Dyer and Roy Williams
National Theatre
Lyttelton Theatre (National Theatre)
Released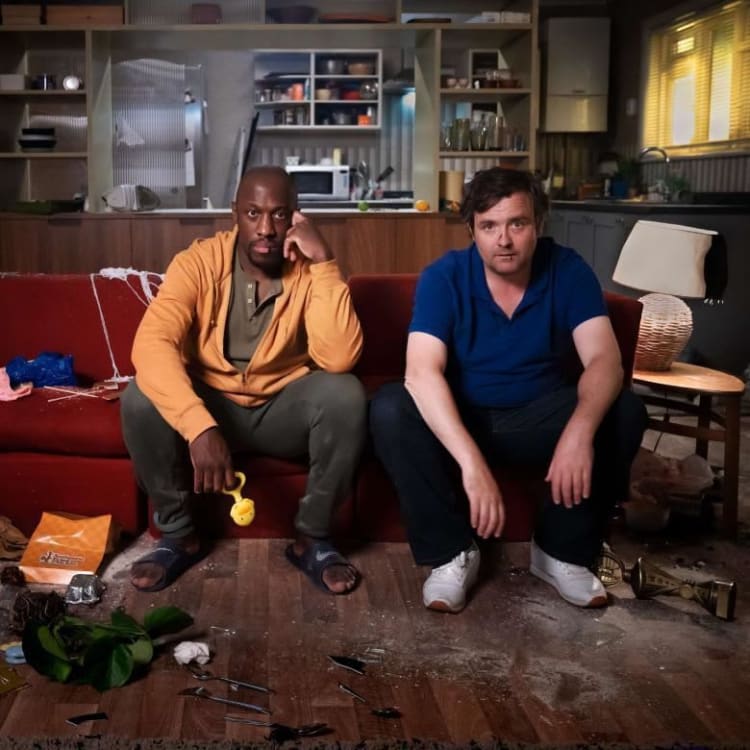 Inadvertently, the three-part journey of Death of England has followed the path of the pandemic.
The opening episode in the Dorfman took place in the heady days of early 2020, when all seemed well with the world. Its follow-up, Death of England: Delroy, found a brief window in the autumn of that year when it played in the Olivier, subsequently being broadcast to a global audience.
This third part, once again co-written by Clint Dyer (who also directs) and Roy Williams, might have been filmed in the Lyttelton Theatre (completing what must be unique National Theatre hat-trick by making appearances on every one of the venue's stages), but has bypassed live performance completely with the producers opting for a film version, thus conservatively skirting the risk of early closure.
Those who have followed the State of the (Dead) Nation story to date will find the opening exposition in a 75-minute performance familiar territory. Having been introduced to Michael (created by Rafe Spall) and then Delroy (originally Michael Balogun) in the previous solo productions, they will recognise this complicated, interracial family.
The angry white patriarch might have sparked the drama with his death but remains on show from beyond the grave in the person of Phil Daniels. This time, the concentration is on his granddaughter, the child of daughter Carly and her black partner Delroy, portrayed by Giles Terera.
They are in the midst of lockdown early in 2021 but, because the unnamed little girl is driving mum to distraction, her brother Michael, now played by Neil Maskell, takes the youngster for an unplanned, illegal trip to enjoy a first meeting with her criminal ankle-tag-wearing dad in Hackney.
What ensues is a minor domestic drama that insightfully exposes masculinity at its most toxic in the wake of George Floyd's death and the impact of Black Live Matter, racism for its own sake, but also the difficulties faced by frustrated Londoners locked in their homes for what was then an indeterminate period.
The film is largely made up of intersecting monologues, although the two men periodically interact and there is a dramatic set piece involving half a dozen members of the local white supremacist football team.
In addition to clashes that involve not only the two men and their threatening neighbours but also, at the end of the phone, Carly, there is a much softer centre in which male bonding and paternal love proved to be even stronger than violence.
Viewers can decide for themselves about the nature of Death of England: Face to Face. It has more of the feel of a play than a TV drama or movie but benefits from the intimacy of camera close-ups, which not only expose feelings but also enable the leading acting duo to demonstrate their abundant skills to great effect.
Reviewer: Philip Fisher