Death and the King's Horseman
Wole Soyinka
RNT Olivier
(2009)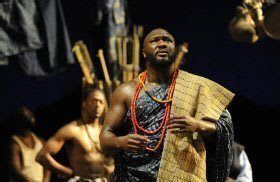 Death and the King's Horseman is a play about cultural differences and the failure of British imperialists to understand the ways of indigenous peoples. Sadly, Rufus Norris' production suffers the same fate, as he spends far too long reproducing the culture of Nigeria, burying what should be a powerful story in an atmosphere that must inevitably feel alien to Londoners.
It is hard to believe that as late as World War II, a man could submit to ritual suicide following an ancient tradition, but then again, similar things are happening in the name of Islam today.
The central character in this mythic, modern folk tale is the mountainous Elesin, played by Nonso Anozie. He is a tribal chieftain whose life and death are governed by the King. When the regent dies, the Elesin (as well as the regal horse and dog) must follow suit one month later.
After a tediously long opening, setting the scene in song and dance, we gradually learn of the man's fate, which is traced through his last day.
The job has perks and the King's Horseman does at least add yet another young bride to a troop of them, as a final consolation before his inevitable journey to heaven.
The activities of the natives are wittily counterpointed against the arrogant behaviour of the stuck-up Brits, played in white face by Lucian Msamati and Jenny Jules. They deliberately fail to embrace tradition, regarding it as mumbo jumbo to the extent of turning up for a fancy dress party dressed in clothes locally associated with death.
The day fails to go to plan and then, ancient and modern meet as Kobna Holdbrook-Smith playing the Elesin's son, Olunde, arrives from medical school in London. He confronts his father but has none of the bitter force of his (spiritual?) mother, Claire Benedict's Iyaloja. It is her condemnation that brings the play to a satisfying conclusion.
The evening looks and sounds good as it takes its audience to an Africa that could as easily be 200 years ago as only just over half a century. For too long, though, it fails to focus on the core of its story and as such, feels like a very long 2¾ hours.
Reviewer: Philip Fisher