Deathtrap
Ira Levin
Noël Coward Theatre
(2010)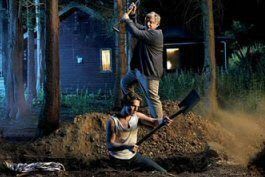 "Please keep the plot a secret and don't spoil the fun for future audiences" says the programme, and that is a serious constraint in writing any review.
Matthew Warchus' revival of Ira Levin's 1978 smash hit play within a play within a play raises the question about whether fantastic actors can make up for authorial limitations. The answer is probably a partial yes, especially when the mercurial Simon Russell Beale is playing the lead.
Although, following an opening that might have been borrowed from Macbeth, the plot can remain shrouded in mystery, some of the associated elements might safely be revealed.
Deathtrap is a comedy thriller that cannot help but reveal its creator's love for the theatrical medium. It is packed with numerous, sometimes unexpected, plot twists, twice leading to screams from assorted audience members, for some reason apparently all female.
It starts conventionally enough in the Rob Howell-designed, New England home of an English playwright Sidney Bruhl and his nervy American wife Myra, a heavily underwritten dumb blonde part taken by Claire Skinner. Lovers of arcane data might be amused to learn that Myra got her originator Marian Seldes a listing in the Guinness World Book of Records as ''most durable actress'', since she did not miss a single one of the show's 1,809 performances.
To furnish the converted stable but much more so the plot, not only does Bruhl write murder mysteries but he collects the weapons from each production. In doing so, he makes the room where all of the action takes place look like some well-stocked police museum.
Since our hero has not had a hit in 18 years, the couple need cash and a moral question turns into reality following the arrival of rookie crime writer Clifford Anderson, eager to learn from the master.
The character played by Christopher Reeve (opposite Sir Michael Caine) in the movie has passed to the equally handsome Jonathan Groff. The young American is best known over here for his heartthrob qualities as Jesse St. James in Glee, though he also originated the role of Melchior Gabor in Spring Awakening on Broadway.
This trio become involved in the creation of what is undoubtedly destined to be a stage smash called - you guessed it - Deathtrap, much to the amusement of the audience. To add to the fun, on opening night they were also constantly delighted by a stream of theatrical in jokes, almost every one delivered with his usual impeccable timing by Russell Beale.
Whenever the plot struggles for a twist, Estelle Parsons as dear old (Swedish?) psychic, Helga ten Dorp appears to make an eccentric prediction and raise a laugh or two.
Before a wittily tongue-in-cheek ending, the plotting becomes increasingly fiendish and too clever for its own good. Although it can be clever, especially in its early scenes, Deathtrap is about as undemanding as an evening out could hope to be.
Its main selling points will be the chance to see Simon Russell Beale excelling in an unlikely guise, ogle Jonathan Groff and, in between, enjoy a few not too surprising surprises.
Visit our sponsor 1st 4 London Theatre to book tickets for Deathtrap
Reviewer: Philip Fisher