Declan
Kieran Hurley
Traverse Theatre
Traverse 3
–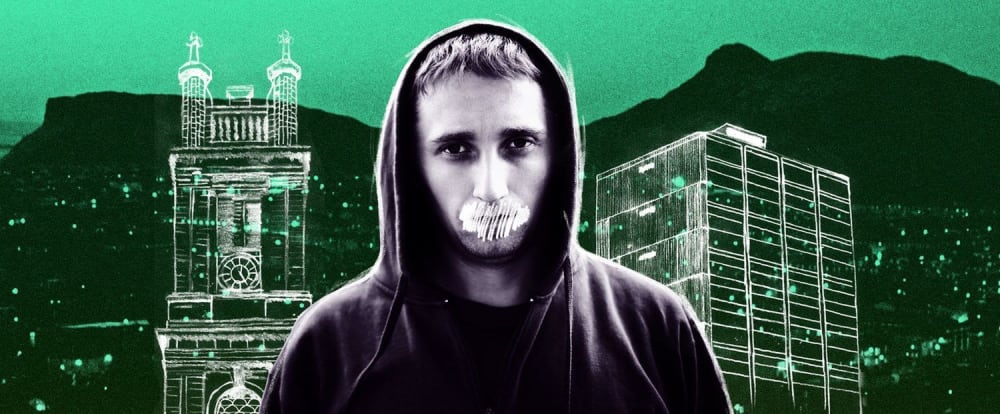 The opening of Declan is a poignant reminder of what the world is missing as a result of the coronavirus pandemic.
It features Lorn MacDonald, the co-star of Mouthpiece by Kieran Hurley on which film is based, sitting in a completely empty Traverse 1 in the character of the play's young leading figure making caustic comments about the play's pretensions.
On the stage, two seats, which ought to have been occupied by Macdonald and his co-star, Neve McIntosh, are empty.
This prologue morphs into a condensed, 30-minute (originally three times as long) reworking of the award-winning play, directed by Macdonald and co-produced by the Traverse and the Edinburgh International Festival.
Rather than the simple monologue that one might expect, this production has been enhanced by comic book style graphics courtesy of Nisan Yetkin, which add a considerable punch alongside camerawork featuring young Declan on Arthur's Seat overlooking the city of Edinburgh at a pivotal moment as he encounters Libby on the point of ending it all.
The film work becomes an integral part of the production, showing many aspects of Edinburgh, combining the touristy with grim sights that would only ever normally be seen by impoverished locals.
Life is difficult for 17-year-old Declan, who lives with his mother, violent stepfather and his beloved sister, wee Siân. The youngster's only hope of escape from a dead-end life seems to lie in a gift for drawing.
Although it initially seems unlikely, he develops a bond with suicidal Libby, who is not far short of three times his age, communing over creativity, since she was once a playwright who instantly recognises the attractions of portraying poverty in the raw.
With a satisfying degree of circularity, the Traverse 1 auditorium is also where the play ends in a thought-provoking metatheatrical conflict.
Lorn MacDonald has done an excellent job on his debut as a director, since his acting is memorable, not the easiest thing for an inexperienced director to judge and perfect when he or she takes on dual roles. He also works well with composer Kim Moore who creates a vibrant soundscape and an artistic team that fills the production with memorable images.
It is perhaps inevitable when portraying a character like Declan, who sounds as if he has stepped straight out of Trainspotting, that the language is the vernacular of the street and has the capacity to offend those who are offended by such things.
Anyone else will enjoy a touching story that may not have quite the same depth as the original but is a fine addition to this unique Edinburgh Festival and Fringe.
Reviewer: Philip Fisher