Decline and Fall
Evelyn Waugh, adapted for the stage by Henry Filloux-Bennett
Old Red Lion
(2010)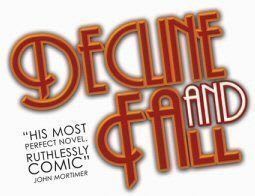 According to the producers, this is the first ever stage adaptation of Evelyn Waugh's debut novel.
Indeed, in the 82 years since it was written, Decline and Fall has only been the source for a single film, produced in 1968 with a cast that included Donald Wolfit and Leo McKern. It has however more recently been adapted for Radio Four with an equally starry team led by Alistair McGowan, Jim Broadbent and Andrew Sachs.
The Old Red Lion's artistic director Henry Filloux-Bennett therefore felt that he had a real opportunity to create something original, even though it could be argued that an episodic novel does not easily lend itself to staging in a tiny pub theatre.
The result is funny at times but, for whatever reason, director Tom King puts far too much of his own invention into the 2¼ hours, rather than trusting Waugh's original story in its new adaptation.
The actors consequently overdo things both in performance and volume as if they were delivering comedy sketches or appearing in a sitcom with a script that nobody really had any great faith in. The result is that some of the original comedy falls by the wayside, which is a pity.
The evening starts with a little tetchy hectoring for the audience from Emily Murphy who goes on to play Florence Fagan. Once the lights have dimmed, we are quickly drawn into the sending down from Oxford of Michael Lindall's shamed Paul Pennyfeather, following a debagging.
With no obvious means of support, the young man is forced into taking a job at what might well be the worst school outside Dickens or Thomas Hughes, Llanabba Hall in North Wales. On this occasion, it boasts a fearsomely cane-wielding headmaster Dr Fagan, played with sadistic glee by Jonathan Hansler.
There, the ever-innocent Pennyfeather falls in with as weird and rum a bunch of teachers as one could hope to come across. These are led by one-legged pervert, Captain Grimes, portrayed by former Doctor Who Sylvester McCoy, and Morgan Thomas' Prendy, a priest who has lost his vocation.
For the rest of the evening, our hero tries to negotiate his way through the vicissitudes of life, eventually given the chance of escape from Llanabba by yummy mummy Margot Beste-Chetwynd, given appropriate flapper glamour by actress, Fay Downie and designer Richard Kent.
Following some excellent comic sequences, prison and multiple deaths then begin to litter what should be a comedy but has a darker side.
While this version of Decline and Fall is a fond reminder of Evelyn Waugh's classic comic novel, it should be regarded more as a complement to than a substitute for reading/rereading the original.
Reviewer: Philip Fisher