Deep Cut
Philip Ralph
Sherman Cymru, Cardiff
(2008)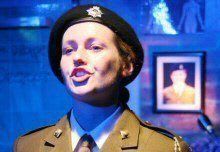 "Why are we, as a society, forced to look at this situation and to ask these questions on a stage? Is that the correct forum? No of course it isn't."
Des James
Philip Ralph's rigorous and beautifully staged new verbatim play spotlights the death of 18 year old Private Cheryl James from gunshot wounds at Deepcut Barracks in 1995. Cheryl was one of four young soldiers to die at Deepcut between 1995 and 2002. Cheryl's parents, Des and Doreen James, and the parents of the other Deepcut victims, have always refuted the Army view that their children took their own lives.
This an extraordinary piece of theatre, meticulously constructed and performed by a remarkable cast with an intensity of emotion rarely seen on stage. But it's a play which leaves its audience with an uncomfortable and lingering unease. This is a shameful chronicle of British injustice. No public inquiry has ever been conducted into the deaths. The army, the MoD and the Surrey Police kick-started their internal inquiries with the presumption of suicide, in spite of weighty evidence discrediting this as the cause of death in each case.
The James's have described themselves as "very private people", but their long campaign for justice has turned their lives upside down and has denied them of the right to grieve in private. This lies at the heart of the outrage: that these private people have had to resort to seeing their anguish played out on stage in order to raise the profile of their campaign thirteen years after their daughter's death. As Doreen James pledges at the play's close, "It stops when it is over".
Brian Cathcart, (Robert Bowman), a Private Eye journalist who followed the case and the MoD inquiry, laments that, "Journalism dropped the ball. I believe we were outmanoeuvred, tricked by the MoD into letting the matter drop". The uncomfortable fact is that theatre isn't the right forum in which these questions should be asked. The families have the right to hear the truth about their children's deaths properly aired in a court of law.
In the absence of justice, theatre here steps in to reignite the dying embers of this story's too-brief journalistic blaze.
Deep Cut has already won several accolades at this year's Edinburgh Festival, including the Amnesty International and the Big Issue in Scotland's Freedom of Expression Award, which lauded the play as, "absolutely evoking the struggle of ordinary people against an uncaring system".
For Philip Ralph, though, the goal is unquestionably justice, not critical acclaim, . "If it were possible for a play to force a government to have a public inquiry, and I'm not sure that it is, than that is of course what I would like. Because they absolutely deserve it."
"Deep Cut" runs at the Sherman Cymru Theatre, Cardiff until September 27
Philip Fisher reviewed this production at the Traverse, Edinburgh, during the 2008 Edinbugh Fringe. It was also reviewed by Kevin Quarmby at the Tricycle, Kilburn, in 2009. Allison Vale revisited it (with a slightly changed cast) in 2099 at the Ustinov, Bath.
Reviewer: Allison Vale