Deep Cut
Philip Ralph
Ustinov, Bath and touring
(2009)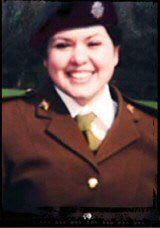 In the fifteen or so months since Deep Cut first previewed at the Sherman Cymru in Cardiff in July 25008, it has rightfully received widespread critical acclaim and several richly deserved accolades, including the Amnesty Freedom of Expression Award and a Fringe First at Edinburgh, 2008.
With some cast changes, Mick Gordon now takes this extraordinarily powerful verbatim production on a national tour.
Philip Ralph's rigorous play spotlights the death of 18 year old Private Cheryl James, one of four young soldiers to die at Deepcut between 1995 and 2002. Cheryl's parents, Des and Doreen James, and the parents of the other Deepcut victims, have always refuted the Army view that their children took their own lives.
No independent public inquiry has ever been undertaken into the precise circumstances of these untimely deaths. Each time an inquiry has been made - by the army, by Surrey police and by the government - it has set out with the premise of suicide. All this despite compelling evidence that makes self-inflicted gunshot wounds seem highly implausible and, furthermore, that the barracks themselves were spiralling out of control amidst a culture of bullying, sex and alcohol.
In the play, Brian Cathcart (Derek Hutchinson), a Private Eye journalist who followed the case and the MoD inquiry laments that, "Journalism dropped the ball". Ralph asserts that it is entirely fitting that theatre should be the forum in which to keep this injustice in the public gaze. " This story represents exactly what theatre should be about, what it should be doing...Theatre is a place where we should ask questions of ourselves - What kind of an army do we want? What do we want the press to do? How much transparency and accountability do we believe the state should practice?"
This is vital and uncomfortable theatre, shattering our conviction that in this country justice always prevails. Justice hasn't been delivered to the families of Pte Sean Benton, Pte Cheryl James, Pte Geoff Gray or Pte James Collinson, who face living out the rest of their lives without knowing how their children died.
"I'm not looking for people to be on my side 'cause they think I've been treated badly. I want them to be on my side because they believe me and because they believe, as passionately as I do, that we cannot treat each other this way. It stops when it's over."
Des James
"Deep Cut" tours to Warwick Arts Centre, Theatre Royal Winchester, the Brewhouse Taunton, and West Yorkshire Playhouse.
Philip Fisher reviewed this production at the Traverse, Edinburgh, during the 2008 Edinbugh Fringe. It was also reviewed by Kevin Quarmby at the Tricycle, Kilburn, in 2009.
Reviewer: Allison Vale