Delirium
Adapted from The Brothers Karamazov by Fyodor Dostoevsky
Created by Theatre O and written by Enda Walsh
Northern Stage, Newcastle, and touring
(2008)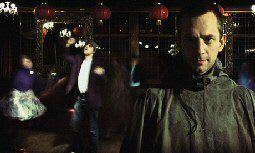 This touring production is described by its creators, Theatre O, as 'a radical interpretation of Fyodor Dostoevsky's classic and compelling tale of family rivalries, The Brothers Karamazov'. Gaining this knowledge from the production's flyer (there was no programme), this is the story of a hated father and his sons who are battling over women, love and God, 'they are uncompromising and on the edge' and 'beside them is a servant, taking note of it all'.
Now, please forgive me quoting the promotional material (I was also very tempted to visit Wikipedia) but unfortunately this information is all I have to go on due to this rather confusing and over-conceptual production. I am quite willing to accept intellectual defeat as I'm sure I will be criticised for my ignorance but - I did not have a clue what was going on.
The stage lay strewn with furniture as if a tumultuous uproar had occurred prior to the show, giving the impression of chaos and lack of control, obviously intent on mirroring the family we were focusing on. However, this soon became even more chaotic due to a 'fight' scene within the first few minutes. I use the word 'fight' loosely as the choreography was poor, incorporating stylised movements to a Tarantino-esque soundtrack that simply looked messy and laboured. This lack of clarity paved the way for the production in its entirety.
The simple questions of 'Who? What? Where? When? Why?' are the most integral to any piece of theatre, however abstract, though as soon as I came up with an answer to one of these, it was obliterated by something obscure. The main confusion was where and when the production was supposed to be set. From the outset it looked traditional as did the costuming of the piece, yet servant Smrdyakov (Lucien MacDougall) was using a video camera to record his findings and a mobile phone popped up a little later too. Within the first half, the period clothing disintegrated and the cast were clothed in a more modern attire, culminating in their final change at the top of Act Two where they are all dressed for a fancy dress party with characters including a cave man, Superman and a Gorilla. Amidst the classical language there was a constant dip into that of the present with an array of obscenities which allowed a few laughs from the audience though this was by no means 'hilarious' as stated by the team and seemed rather cheap.
With both of these traditional and modern concepts, I can only assume that Theatre O was trying to show that the story of The Brothers Karamazov can be applied to the modern world as well as its original time but unfortunately I came to that conclusion being an experienced theatre-goer rather than from the clarity in the production itself.
As the production team describe the story as 'brutal' I shall continue and be brutal myself, sadly recognising the scrutiny I shall undoubtedly come under. This piece was devised from The Brothers Karamazov, a highly intellectual and rather difficult story and it feels as though the devisers and director lost confidence with the simplicity of telling the story in a way that was coherent and so therefore added the gimmicks of rude language, song (modern), puppetry and animation in the hope that the production, if anything, is interesting to watch despite lack of understanding of the story. One would like to use the cliché that this production was 'a jack of all trades and master of none', though this seems like praise and the show did not even live up to the royalty of a 'Jack' card despite the gimmicks it used. I am sorry to be so negative about a production that has had a long period of time dedicated to its devising but unfortunately if I need to visit Wikipedia or attend a post-show discussion to understand a production, I believe it has failed and this is the unfortunate case of Delirium.
Philip Fisher reviewed this production at the Barbican
Reviewer: V Mitchell