Delirium
Enda Walsh, based on Dostoyevsky 's The Brothers Karamazov
Theatre 0
Barbican Pit
(2008)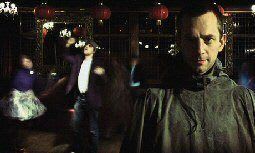 What is it about Dostoyevsky? The deconstructivist school of theatre directors seem unable to leave his novels of grim alienation alone.
In recent years, Dreamthinkspeak have adapted Crime and Punishment as Underground, a promenade performance in an abandoned abattoir, Katie Mitchell has turned The Idiot into a film creation experience and now Enda Walsh and Theatre O have made Delirium from The Brothers Karamazov.
Where Dickens, Zola or Eliot could expect a reasonably faithful if rather compact re-creation of their works on stage, for some reason the Russian master attracts auteurs desperate to rip his works apart and put them back together in an often almost unrecognisable form.
Theatre O lead in with a monologue that smacks of the original but then destroy the tempo and mood with a 70s rock intro to a night of headbanging both literal and metaphorical.
Each member of the cast takes on a deliberately and sometimes excessively stylised role. The titular brothers are a repressed monk only recently departed from his monastery, a sex addict and a brainy philosopher consumed by self-distaste.
They and their mad (Irish) father are all obsessed with some combination of two women. Katerina is a good soul almost turned to prostituting herself by poverty, while her rival Grusha is a rock chick with a morality bypass.
The cast is completed by an eccentric, Mr Bean-like servant who has fun relating the family history with an assortment of puppet and cartoon props.
Dostoyevsky's tales of love and family rivalry, with a subtext of existential angst are first rendered into profane modern language by Enda Walsh and then constantly interrupted by directorial excesses.
The actors pogo around, sing songs, rant and rave, not obviously adding any greater meaning that could have been achieved had this element been dropped in favour of a straight staging.
You either love this kind of thing or don't get it. If your instinct suggests that you might be in the latter category, it might be wise to follow it.
V Mitchell reviewed this production at Northern Stage, Newcastle
Reviewer: Philip Fisher