Democracy
Michael Frayn
Wyndham's Theatre
(2004)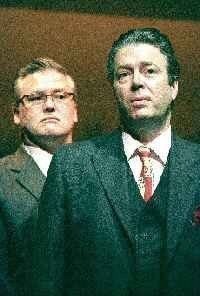 After a very successful run at the National Theatre, including an internal transfer, Michael Frayn's cerebral political drama has now transferred to the West End.
This is a good opportunity to reassess a play that may be with us for some time. Democracy's deep analysis of political machinations puts it on a level with All the President's Men or Absence of War.
What the play lacks in dramatic content and action, it makes up with great writing, clever construction and a super storyline.
That story itself would be unbelievable if it weren't drawn from life. It follows the premiership of Willy Brandt, the first left-wing (in rather a New Labour way) Chancellor of Germany in forty years. This was a man who finally put to death the spectre of Nazism and led the way to détente and the destruction of the Berlin Wall, cleverly symbolised on designer Peter J Davison Escher-influenced set.
We see the way in which his cabinet led by David Ryall and Glyn Grain, equally good as "Uncle" Herbert Wehner and Helmut Schmidt, do their best to remove Brandt. Bizarrely, in Frayn's view he received much better support from the other side, the East Germans. These are led by the always cheery, if unctuous Günter Guillaume, played with relish and feeling by Conleth Hill. He is a spy who eventually finds himself as Brandt's PA and family friend. Throughout the play, he commentates on the Government's performance to his constantly present, green-suited controller, Arno, a very strong performance from Michael Simkins.
The joy of the play is seeing in the political power struggles of a Government through the eyes of a mole who has reached the highest level within it. In Third Millennium British parlance, it is as if Alastair Campbell had been Saddam's man.
Under Michael Blakemore's sure direction, Roger Allam's understated Brandt and Hill's Guillaume come to life as Frayn dissects them with a psychologist's eye and ear.
Like Frayn's Copenhagen, Democracy is a play for those who enjoy intellectual stimulation ahead of swashbuckling action. It might well prove even more rewarding on film, radio or page. It is, though a fascinating look into a world that few know. Its combination of political and psychological drama, leavened by some good jokes, grips throughout as all of the best spy stories are bound to do.
Reviewer: Philip Fisher