Deposit
Matt Hartley
Hampstead Theatre Downstairs
–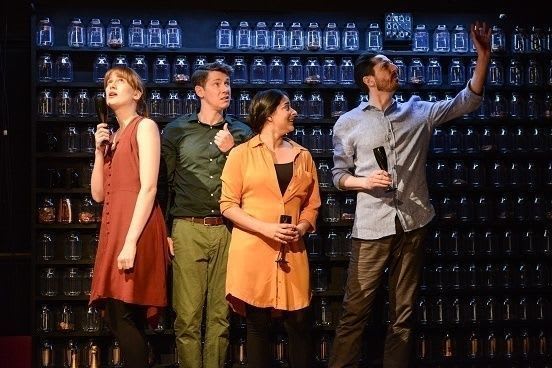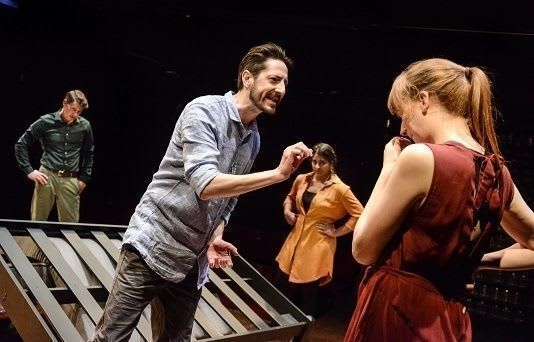 First seen two years ago, the opening play in what has been dubbed a season of Hampstead Downstairs Originals takes a wry look at a serious topic affecting far too many younger people.
With house prices spiralling out of control and wages failing to follow suit, young Londoners often find it impossible to get onto the housing ladder.
That is exactly the predicament facing the thirtysomething quartet under the microscope in Deposit. Although each member of the two couples works, the premise is that their combined salaries are inadequate to purchase even a tiny flat in an undesirable area.
The obvious solution, at least in their eyes, is to swallow pride and move in together for a 12-month flat share.
This would be fine were their new home a little more substantial than a cramped one-bedroom (on a stage in which thousands of 1p pieces have been embedded by designer Polly Sullivan) that the home team, Ben and Rachel, are obliged to sublet illegally to Sam and Melanie in order to pay the rent and begin saving for their own property.
What ensues through the 100-minute running time tends to be mechanically plotted with some ideas that feel second-hand, while much of the characterisation is shallow. However, where Matt Hartley really scores is in addressing some of the problems facing people exactly like those whom he has created.
Initially, the strong relationship between Natalie Dew as Rachel and Nicola Kavanagh playing Melanie, old roommates from university days 15 years before, makes what should be nigh on impossible bearable.
However, neither is helped by their menfolk. Ben Addis's Ben is a 35-year-old civil servant with few prospects and a chip on his shoulder. By way of contrast, Sam, portrayed by Karl Davies, is a surgeon, tired and taciturn in equal measure with an unfortunate gift for patronising his housemates.
The inevitable problems are compounded since Rachel is a politically savvy junior school teacher, while Mel is significantly better paid as a creative in the advertising industry.
For much of the play, the issues arising tend towards those of lowbrow sitcoms as the couples fall over each other, bicker about not very much and do/don't listen in to each other's intimate moments and arguments.
However, in the latter stages as tempers fray and everybody in turn gets on to his or her high horse, something more interesting develops. In particular, with the assistance of a convenient inheritance, the financial differences between the couples become a significant moral issue, as well as a source of increasingly intemperate argument.
This does beg the question as to why a parsimonious professional couple earning fairly serious money could not afford to rent on their own or even buy a property at the start of the process.
That is best ignored if one wants to make the most of the later debates in a patchy but at times politically significant piece of theatre.
Whatever one might think about the plotting, the efforts and imagination of director Lisa Spirling for an audience set up in-the-round will inevitably impress. Not only does she get the most from her cast but between scenes they act out some beautifully developed and thematically helpful mimes, which greatly enhance the theatrical experience.
Overall therefore, Deposit is a promising opening to this short season.
Reviewer: Philip Fisher