Der Fensterputzer (The Window Washer) (Hong Kong) - Tanztheater Wuppertal Pina Bausch - World Cities 2012
Pina Bausch
Tanztheater Wuppertal Pina Bausch
Sadler's Wells
–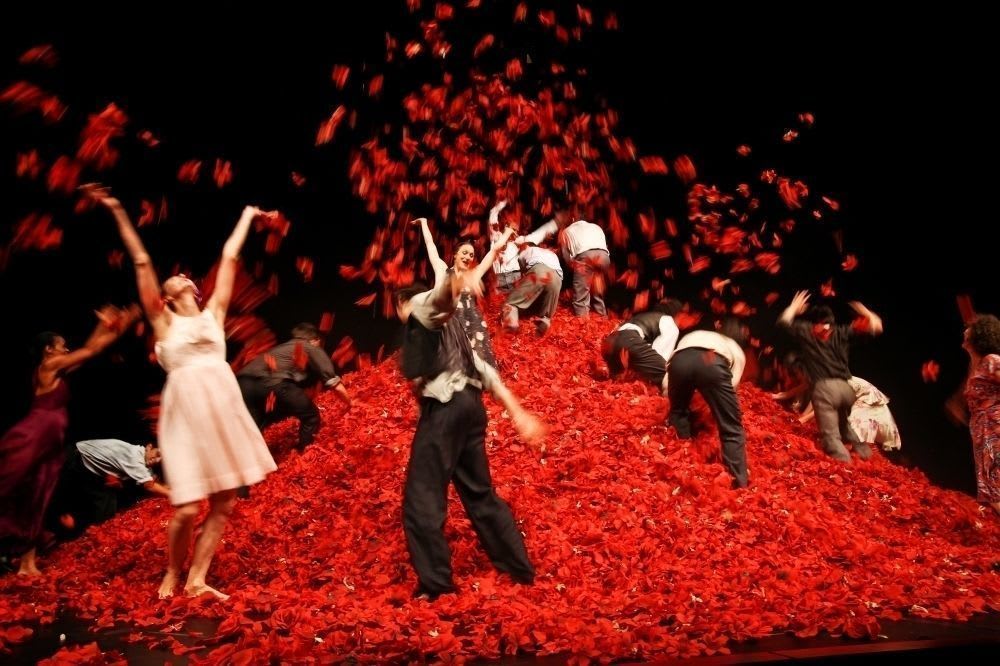 Seven years before the 'Japanese' Ten Chi, Pina Bausch and company collaborated on the almost three-hour-long Der Fensterputzer (The Window Washer) after a visit in 1997 (the year of the transfer of sovereignty) to Hong Kong, where East truly meets West in a melting pot fusion of cultures, religions, and festivals.
One can only respond viscerally to Pina's assault on the senses in her flood of fine details and structure-free broad brushstrokes to music that draws one in with its songs of love and longing, a velvety tapestry of sound from renaissance ballad La Prima Vez (sung by Owain Phyfe) and Cesária Évora's Cape Verde fado ballads to jazz, guitar, explosive drumming, and songs and music from China, even 'Cantopop' karaoke. It is all "so beautiful".
The company invites the audience to partake in their child-like playfulness—the front row gets all the goodies. Fernando Suels Mendoza, a bespectacled waiter trying so hard to please, brings bananas (sorry, no apples), chocolate, coffee, tea, and Coca Cola (requested in first half, remembered in the second gets a big laugh).
"Good Morning! Thank You!" is on repeat from a charming Helena Pikon in call centre receptionist mode… Obliging service in a land where dreams are made, and everything is possible, but how to capture a vibrant Hong Kong with its bustling cityscape, industrious people, dynamic advertising, startling architecture and landscape, lush sub-tropical vegetation?
Designer Peter Pabst's ultimate conceptual solution and response to the Fragrant Harbour is a magic mountain of red bauhinia flowers "some eight or nine metres in diameter and some four-and-a-half metres high… standing on a traditional black stage" on which twenty-five dancers play with infectious glee. The bauhinia is the floral emblem of Hong Kong, and red, of course, is the colour of good luck and happiness in China.
The red flowers are given away (to the front row), swept up, rearranged, and plunged into in wild nuzzling abandon. A man (Andrey Berezin) pulls snakes from the pile with chopsticks; in bare torso, diamond necklace, a long cigarette holder and two lapdogs under his arms he strolls down it; later he skis its slope again and again (to applause). Customs electronic checks make him strip off down to his pants, but it's his teeth that are the problem.
A rope bridge is slung high above the red mountain, travellers with suitcases and wares to sell cross its rickety form, cyclists ride underneath it in busy circles. A man in red briefs (Rainer Behr who also does a mean Bruce Lee pose) hangs by his feet from the top of an upturned table laboriously ladling water from a bucket on the floor to one hanging at the top of the table, a woman (Julie Anne Stanzak) climbs the hill (sloping table) then slides down again and again, another (Ditta Miranda Jasjfi) blackens her eyes in sorrow.
T'ai chi and sharing, a gentle philosophy, and a competitive lifestyle… Billboard trophy women, and ants on a molehill. Duvets become playthings as well as sleeping pads, a clapping dance gets a big clap, and as usual visual and verbal jokes abound… You wouldn't want to cross Mechthild "I'm a Capricorn" Grossman when she demands to see your tickets (front row get it again), or when she fellatios an ice cream cone on the mike stand, or when she tells you that exercise is important for a flat stomach.
But Der Fensterputzer is also a sharing of imprinted time, memories, Proustian madeleines, holiday snapshots: the performers come amongst us to share theirs—a young man, Pablo Aran Gimeno, shows me faded family photos from Barcelona, mother in fur coat. Pass them around, he says.
Back projection slides show dune hills and mountains, high-rise blocks, neon signs, a night view of Hong Kong harbour, and a still from a Chinese children's calendar. The taciturn window cleaner watches silently on his cradle above the pulsating city.
A man shaves a woman's legs, a woman screams and is carried off by five men, another stuffs a man's mouth with food, a yellow car is carried on to who knows what purpose, jet planes roar in the background, fluorescent lights flicker, and fire flares.
And when the dancers dance their solos, we recognise each by their individual styles, arms semaphore and personalities are revealed, dreamy dances to mood music invariably undermined by some silliness in the back or foreground.
If you know Hong Kong you may take delight in the company's free associations, but if you've not been to Hong Kong, the festive Fensterputzer will make you want to get on the next plane there. What an asset for the tourist board is Tanztheater Wuppertal Pina Bausch! Hong Kong Arts Festival Society and the Goethe-Institut Hong Kong who co-produced it should be very pleased.
A magical playground… to which Lufthansa flies from many countries… another joke… The teacup overfloweth—literally in Nazareth Panadero's hands. Halfway mark in Pina's ten-city travelogue and so far the hedonistic pleasure principle outweighs any brooding darkness.
Reviewer: Vera Liber