Der Ring des Nibelungen
Richard Wagner
Deutsche Oper, Berlin
Released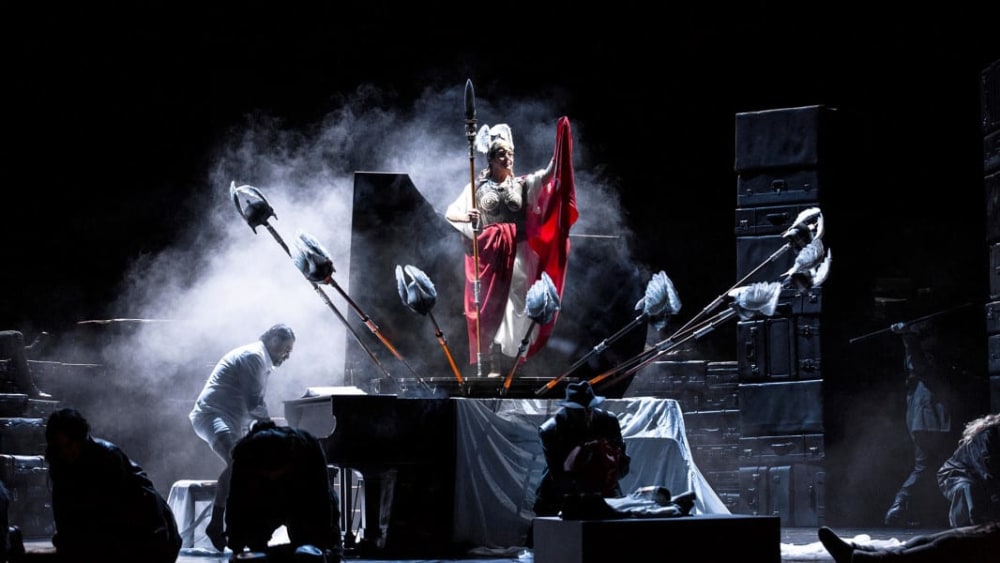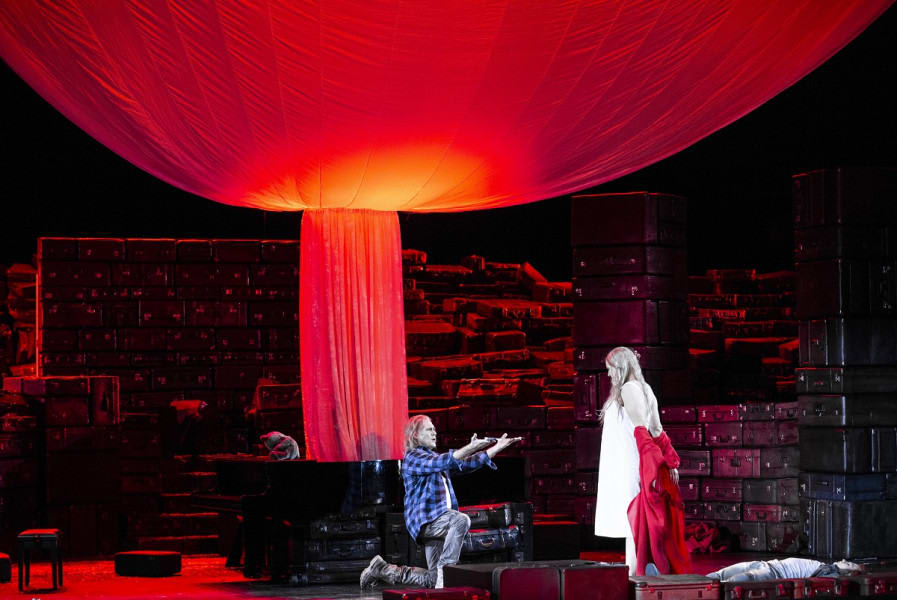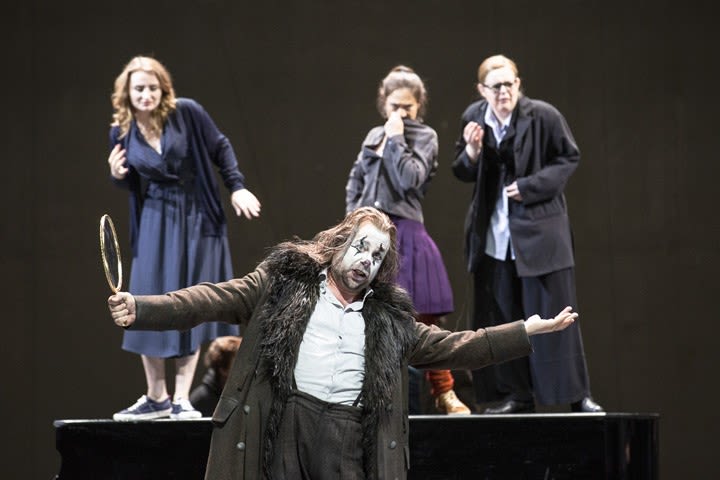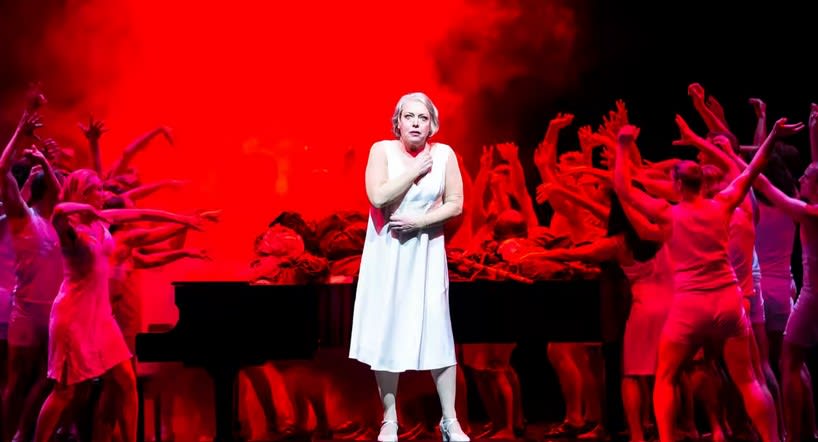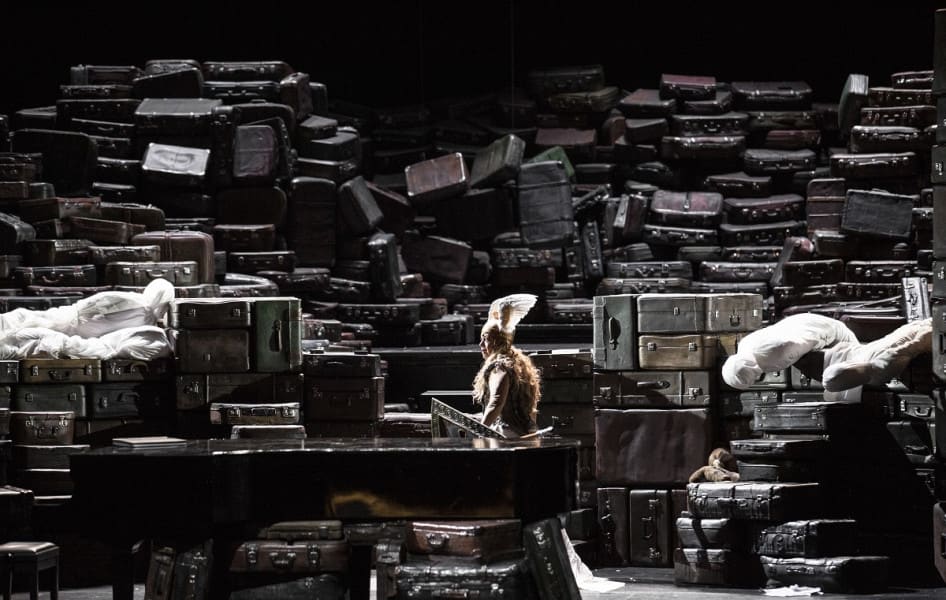 There is a key moment for understanding this 2021 Ring from Berlin: Mime, from whose smithy the hero Siegfried will later emerge, rises from the glowing heart of a grand piano, clutching a copy of Das Rheingold, and dressed as Richard Wagner in distinctive floppy cap.
Money and lust—of which much is in evidence—are still drivers of the tetralogy, but in director Stefan Herheim's Brechtian interpretation, it's the creative act of the composer that's the most influential motive force. Even the Ring fails to subdue Alberich's slaves until the dwarf leaps onto the keyboard, and Wagner reappears at the end of Die Walküre to snatch the infant Siegfried from his mother Sieglinde on the instant of his birth.
The 2018 Vienna production of Weber's Der Freischütz featured a similar idea, a composer's piano bursting into flame with the intensity of his conception. Herheim takes the concept further, informing every aspect of the entire cycle: characters pound the piano keys as an exercise of power, and pop up or disappear into its frame which becomes a major point of entrance and exit.
As a corollary to this celebration of invention, a group of migrants wander on stage at the very start, travellers in time as well as space, both looking for a place in life, and play-acting roles in the dramas to unfold. On the one hand, they soon lose all dignity and their outer clothing as they are transformed into Alberich's slave workers; on the other, for Götterdämmerung they dress up in Teutonic garb such as was seen in C19 productions, marking the legacy of historical performances.
Some of Herheim's devices and leitmotifs work less well, such as the over-frequent and sometimes awkward use of parachute silk for moments of transformation, and the mountains of suitcases that form the backdrop for most of the first three operas. Due to Das Rheingold being postponed because of COVID, Deutsche Oper presented Die Walküre first, and without the preliminary scene-setting, audiences and critics were bemused by their presence in Hunding's humble home, together with a sword stuck through the keyboard of a grand piano, that only the wildest surmise would have recognised as a symbol for the World Ash Tree.
With Siegfried also performed out of order, the cycle received less praise than it might otherwise have earned, and viewed overall, Herheim makes an eloquent case for treating the cycle more as a product of continual, creative genius than as a coherent philosophical statement that many directors have sought to interpret.
There is much to admire also in the intense collaboration between Herheim and conductor Donald Runnicles, with the tiniest movements co-ordinated exactly with the music, some achievement over more than 15 hours. Poor tuning at the end of Walküre mars a fine orchestral sound.
The singers all perform well, but American tenor Clay Hilley is an outstanding Siegfried, a stout figure in animal pelt, appropriately more brawn than brain in the character, but singing with intelligence, resilience, and a luminous sound clear at the top, strong without shouting, tender and controlled in softer passages.
Nina Stemme is still a commanding Brünnhilde, unphased by performing her final love duet inside the piano while extras feign love-making around them. Her duets with the admirable Okka von der Damerau's Waltraute are a highlight.
Derek Welton shines as Wotan in Rheingold, his role taken by Iain Peterson in Siegfried and less impressively in Walküre. Ya-Chung Huang (Mime), Brandon Jovanovich (Siegmund), Elisabeth Teige (Seiglinde) Albert Pesendorfer (Hagen), Thomas Blondelle (a Mephisto-like Loge), Andrew Harris (Fastolt), and Tobias Kehrer (Fafner and Hunding), Annika Schlicht (Fricka) and Flurina Stucki (Freia) are in fine vocal form and responsive to the action, as are Markus Brück and Jordan Shanahan who share the role of Alberich, cast somewhere between a Nazi dictator and a Samuel Beckett clown.
Reviewer: Colin Davison