Describe the Night
Rajiv Joseph
Hampstead Theatre
–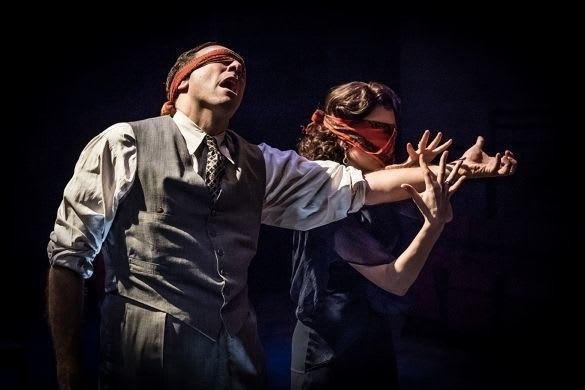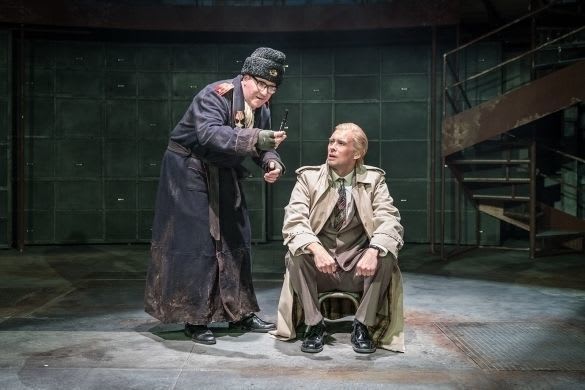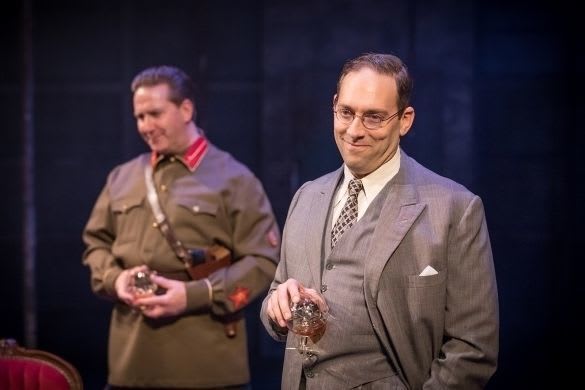 Anyone who is frightened by entertainment that is challenging might be better avoiding Hampstead's latest offering in favour of a night on the living room couch enjoying their favourite reality TV show or soap opera.
There is no question that American playwright Rajiv Joseph's Describe the Night, directed by Lisa Spirling on a thrust stage, puts demands on audience members, as it flits about in time and space across three intriguing hours. In return, it rewards them with a mixture of history, magic realism, subversive politicking and some wild flights of the imagination.
The evening opens with a 1920 meeting in Poland between the Jewish writer Isaac Babel and a far from bright Russian soldier, Nikolai Yezhov. The characters, respectively played by Ben Caplan and David Birrell, then send out connections into the future that interweave in a complex tale of tyranny, espionage and love, with a political sideline that is too good to be true. The nature of truth, another major element in the mix, is explored as Joseph wittily tries to prove that the fake version existed long before Donald Trump and Vladimir Putin became the leaders of their respective countries.
The relationship between the incongruous duo of Babel and Yezhov develops to the point that, by the time they meet in Moscow 17 years later, the writer has attained fame, while his adversary is Stalin's right-hand man as Chief of Police. He doesn't stop there, later becoming Chief Comrade of the NKVD (a predecessor to the KGB).
Viewed from Moscow and Dresden in the late 1980s when the Berlin Wall was about to fall, the story takes on different resonances, with Siena Kelly's Urzula, the granddaughter of one of these men (given the promiscuity of the police chief's wife Yevgenia, played rather eccentrically by Rebecca O'Mara, parental attribution is tricky).
Connecting all of these stories is Babel's diary from the early days, containing the rather random thoughts of a poetic writer who loved to create allegories and probably needed to do so if he was to live.
By 2010, in the hands of Urzula, the diary ends up on the plane that crashed near Smolensk effectively wiping out the Polish cabinet, whether accidentally or at the instigation of the Russians might be debatable.
Testing the viewer further, at least one character continues to make appearances long after death, while another lives to the ripe old age of 110, providing continuity and connections to keep viewers on their toes from start to finish of just under three hours.
Last but certainly not least, Steve John Shepherd as Vovo, a second spy, makes an appearance and, following another flight of fancy that might just conceivably be based on fact rather than rumour, hints at a side to Vladimir Putin that will not make this playwright popular with the Russian president.
If all of this sounds rather intricately plotted, it is but, although Describe the Night could probably benefit from a little deft cutting, there is much to enjoy for those that have a taste for Russian literature, politics and/or history, as well as the imagination to enjoy a sweeping but rarely dull portrait of artists and tyrants in association and conflict.
Reviewer: Philip Fisher