As You Desire Me
Luigi Pirandello, in a new version by Hugh Whitemore
Playhouse Theatre
(2005)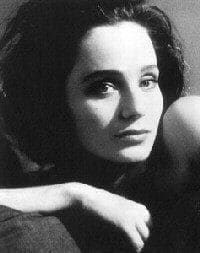 Pirandello is such a wonderful playwright. His ability to combine simple storytelling with moral debate on many levels is matched by few.
As You Desire Me is only eighty minutes long but contains a wonderfully-drawn leading character and an intellectual puzzle that tosses the viewer's emotions around like a ship on a stormy sea.
It was written in 1930, towards the end of the writer's life and filmed two years later. Jonathan Kent's stylish production harks back to that celluloid version. In its two stars, you can immediately see Greta Garbo and Erich von Stroheim, who played the same parts almost three quarters of a century ago.
Kristin Scott-Thomas is a great stage actress who is now better known for her numerous successful screen roles. She plays a Berlin cabaret singer whose memory stops four years back.
Life is fun for her in a lavish house, designed by Paul Brown. He has a good eye for a striking image but is better known for opera, which shows in the scope of his sets here. This is owned by the louche lady's loutish lover Salter, a "hack" writer played by another screen star, Bob Hoskins. He has a strange rival in love though, Hannah Young playing his daughter, Mop.
Suddenly life is turned upside down by the arrival of an Italian, Finbar Lynch's Boffi who claims that the singer is really a lady named 'Cia. She was a wealthy woman who disappeared at the end of the First World War, having been gang-raped by a group of German soldiers.
The second act moves to the run-down ballroom on 'Cia's estate. After four months with her new-old husband Bruno (Richard Lintern) and a pair of old family friends, John Carlisle and the very moving Margaret Tyzack, the transformation is complete and the cabaret star has become a gentlewoman.
This is Pirandello though. The long-awaited meeting with 'Cia's younger sister and her brother-in-law coincides with unwanted news and unexpected visitors.
The news is that she had been certified as dead and that a potential battle for her inheritance is still on the cards. This colours every relationship.
Worse though is the arrival of the embittered Salter with a madwoman whom he claims is the real wife.
The question that is then debated with the ex-cabaret singer as moderator, is the one addressed in Martin Guerre. Is this interloper who she says she is and who others want her to be?
The play then becomes an investigation into the nature of identity and belief. It easily rises above a single woman to move on to much deeper philosophical levels and might even be interpreted by some as addressing the nature of blind religious belief.
Jonathan Kent's gripping production, well translated by Hugh Whitemore, does the playwright proud and he is particularly well served by Miss Scott Thomas. She is convincing both as bored but very sexy chanteuse and as chatelaine, or the Italian equivalent.
As You Desire Me deserves to be a hit. It has glamour, big names and intellectual depth. What more could one wish for?
Visit our sponsor 1st 4 London Theatre to book tickets for
As You Desire Me.
Reviewer: Philip Fisher