Detaining Justice
Bola Agbaje
Tricycle Theatre, Kilburn
(2009)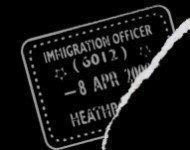 The third and very much best play in the Tricycle's adventurous Not Black & White season is a chilling indictment not only of the British justice system but our attitudes to immigrants on a wider scale.
Bola Agbaje's 90 minute drama may be a little schematic and she is rather too keen to put strongly held personal views across via the mouths of her characters but even so, this is the kind of theatre that can change lives.
The writer has a knack of creating memorable individuals and, with the aid of director Indhu Rubasingham, the actors who have already made such a strong impression during this season manage to combine comedy with some really tragic moments in a play that owes something to Measure for Measure.
The catalyst is Aml Ameen's Justice. The strong-willed young man is in a detention centre having illegally entered the United Kingdom from his native Zimbabwe, where he was an active member of Morgan Tsvangirai's Movement for Democratic Change.
His appeal for the right to remain has been rejected by the Home Office in the person of Jimmy Akingbola's truly evil Alfred and unless something can be done, Justice faces deportation and possible death.
However, his loyal sister Grace, played by Sharon Duncan Brewster giving a brilliantly moving performance that is worth the admission price alone, is, like Shakespeare's Mariana, determined to save him at whatever cost.
Her first port of call is the local Immigration Advice Centre manned by Karl Collins' haughty Mr Cole and his antithesis, hip law student Chi Chi, played with great humour by Rebecca Scroggs.
Like almost everyone in this play, Mr Cole has a secret side to him which affects both his personality and his ability to defend his clients from a power base at the Home Office, that, if Bola Agbaje is to be believed, seems little better than criminal.
Eventually justice is done to Justice but along the way both he and his sister are horribly victimised. Judging by the experiences of the other illegal immigrants not only from Africa but also Eastern Europe, such treatment is not too far from the norm in this supposedly civilised country.
While Detaining Justice veers slightly too often towards melodrama, its power, humour and fierce defence of ethical values make this an evening to remember.
Playing until 19 December
Reviewer: Philip Fisher