Dial M For Murder
Frederick Knott
Tabs Productions and Theatre Royal & Royal Concert Hall
Nottingham Playhouse
–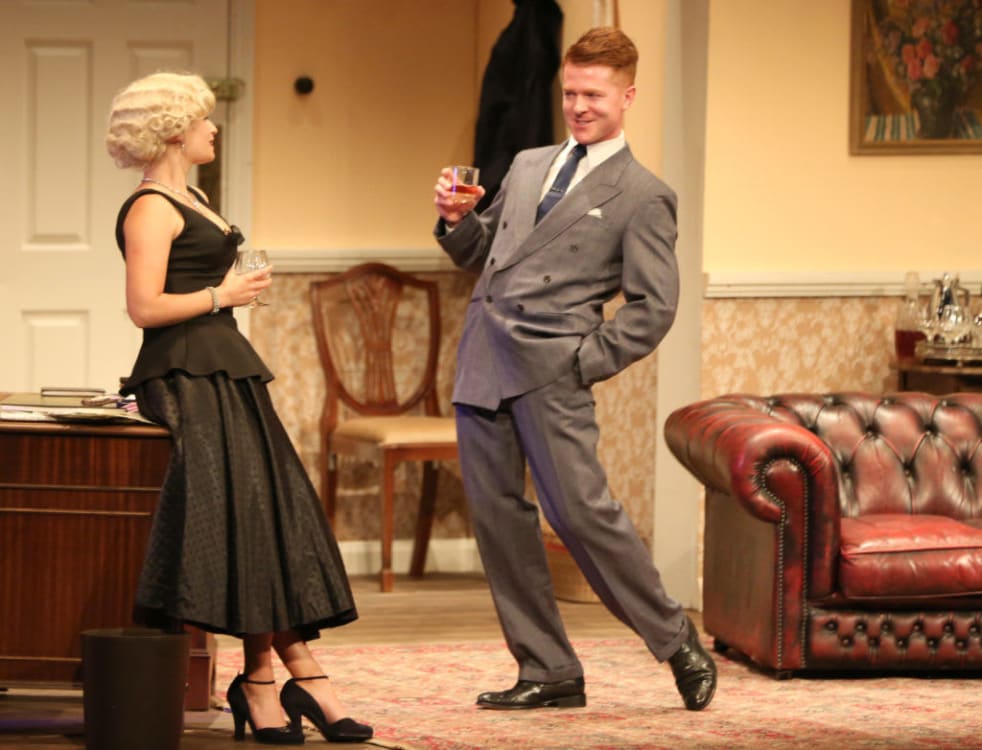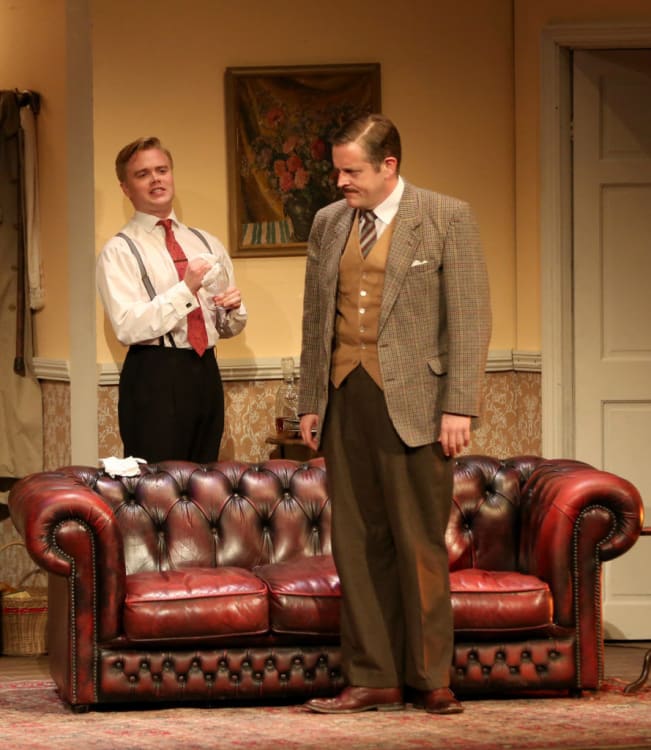 Twice within the space of two months I have had the pleasure of seeing Frederick Knott's Dial M for Murder. Even though a distance of only 55 miles separates Newcastle-under-Lyme's New Vic, where I saw Peter Leslie Wild's production, and Nottingham Playhouse, there is a huge difference between the two performances.
While the New Vic in-the-round staging called at times for audience members to use their imagination, the Playhouse with its proscenium arch requires a more traditional production—and the benefits are easy to see.
This is most evident when hired would-be assassin Captain Lesgate tries to strangle Sheila Wendice. He appears from behind a curtain while she is on the phone and attempts to end her life—until she picks up a pair of scissors and stabs him. The scene is tense, vivid and gripping.
Dial M for Murder is a fabulous choice to start the 2017 Colin McIntyre Classic Thriller Season. It's not a whodunnit as Lesgate dies on stage. The tension mounts as retired tennis professional Tony Wendice, who married Sheila for her money, wants her dead after he finds out about her affair with writer Max Halliday. Will he get away with framing Sheila for Lesgate's death? Or will wily Inspector Hubbard get the better of him?
The first thing to note about this thriller, directed perceptively by Karen Henson, is the ages of the cast. David Osmond, a subtly scheming Tony, is perfectly believable as a sportsman who has recently given up tennis. His allure could sway some people to hope he might avoid justice; it deflects from his sociopathic, calculating manner.
Anna Mitcham, delightfully elegant with a 1950s-style wig perched on top of her head, is suitably graceful and resourceful as Sheila who is mercilessly manipulated by Tony. She might have been more distraught after killing Lesgate although that may be an imperfection with the script rather than her performance.
Chris Sheridan portrays Max not as an American crime writer but as an Englishman who has been working in the States. His charm and depth of feeling for Sheila give him an engaging appearance.
Mark Huckett, a man with countless facial expressions, shows his disbelief as convicted criminal Lesgate when Tony blackmails him into taking on the job of murderer. But his money-grabbing nature means he needs little persuading to do it.
It's not until the second half that Inspector Hubbard appears. John Lyons, with plenty of police experience after playing Detective Sergeant George Toolan in the ITV drama A Touch of Frost, proves to be a cunning adversary for Tony Wendice. Lyons dominates the stage and everyone is rooting for him to succeed.
Overall it's a classy production. There's a keen attention to detail while clever use of lighting and sound keep you on the edge of your seat.
A few years ago one theatre boss described the Classic Thriller Season as being like a "comfortable pair of old slippers; old friends returning to perform a good yarn in a period setting". Now, with a few different actors and a good choice of plays, it's improved to such an extent that it's more like a new pair of Jimmy Choos.
Reviewer: Steve Orme