Diciembre
Guilermo Calderón
The Public Theater, New York
(2011)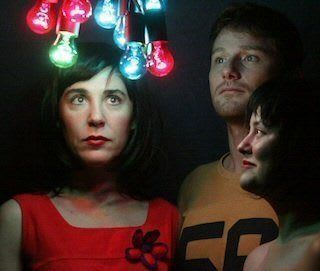 This production by Chile's Teatro en el Blanco comes to New York as part of the Under the Radar Festival, which also features, inter alia, Gob Squad's Kitchen and Daniel Kitson's The Interminable Suicide of Gregory Church, both previously seen in Edinburgh.
Diciembre is a dystopian vision of life in Chile only three years hence. This subject matter is the natural territory of Ariel Dorfman and Harold Pinter, who must both have been influences.
If playwright and director, Guilermo Calderón turns out to be a seer, that country and indeed the globe has little to look forward to with any optimism.
The play is a three-hander set in a kitchen on Christmas Eve but has twice as many parts, each actor doubling up.
The simple setting is illuminated by coloured Christmas lights, suggesting a degree of happy celebrations that never actually come about.
The central trio are a brother, Jorge and his twin sisters. He is in the army, waging a bloody war with neighbours Bolivia, in the wake of the American nuclear bombing of Iran. Remember that?
The twin sisters are poles apart in both personality and political opinion. The only thing that they have in common is pregnancy induced by unknown men.
Stay at home, petite Paula, played by Mariana Munoz is a bloodthirsty hawk who hates not only Bolivia but also Peru.
Trinidad González as her own namesake is by nature a traveller and has what are seen as prototypical left-wing attitudes, anti-war and pro-revolution. She secretly attempts to help Jorge to desert and escape South, rather like those who sought to escape Vietnam by fleeing to Mexico or Canada.
This attempted action has a number of consequences. First, it throws Jorge into turmoil as, unlike his sisters, he can see both sides of the political arguments, ignoring the natural desire to escape the horrors that await him back on the front line.
The play develops these chilling themes with a degree of black humour. Each of the performers gets a long, impassioned speech in which to show off their talents and all do so with true commitment.
Although there is little action on stage, the drama is sustained in words, conveyed by efficiently prepared and delivered surtitles, although of necessity these flow through so thick and fast that it can be difficult simultaneously to follow them and watch the actors.
The result is that while Diciembre is an intelligent play that makes a strong impression on English speakers, it seems likely that someone from the region who understands not only the language but also the politics will find the play significantly more relevant and powerful.
Reviewer: Philip Fisher