Dick Johns - What Midlife Crisis?
Dick Johns
Dick Johns
Chapter, Cardiff
–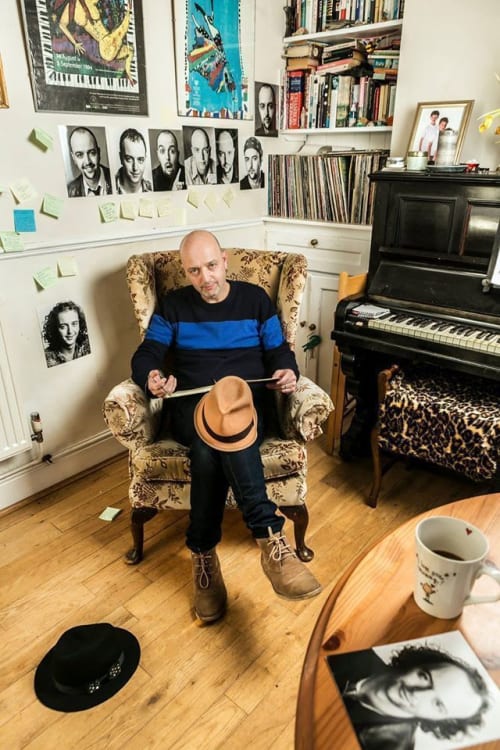 "A shameless plea for attention from a spiritually bankrupt old man." Not my words, but an invented quote from the back of the flyer for Dick Johns—What Midlife Crisis?, which perfectly sums up the tone of the evening.
Commencing with a shamelessly sincere but boisterous karaoke version of Squeeze's "Up The Junction", Johns muses on the extent to which the song has influenced his life, by way of setting up the theme of the show—reaching mid-life, pondering the person you used to be, and musing on the extent to which we are shaped by the music we love.
The theatre is transformed into a cabaret, with audience-members seated around tables. On one side of the performance area the karaoke microphone is set up; on the other, an armchair. The rest of the space is decorated with LP sleeves from the 1980s, both cool and uncool (Grace Jones, The Smiths, Dexys, Housemartins, Haircut 100, Billy Joel, Dire Straits etc).
The fact that the show is being presented using the persona Dick Johns rather than Dick Bradnum, the performer's "acting" name, suggests a degree of earnestness which is mercifully absent from the performance itself. Johns is a casually self-assured but charming presence, conversing easily with the audience and making the most of the freedom to use his own voice rather than that of a character.
An early crowd-pleasing highlight is the video-projected slideshow of his portrait photographs as featured in actors' directory Spotlight, charting the transition from impossibly boyish long-haired drama school graduate, via a number of more dubious incarnations, to the proudly bald middle-aged husband and father we see before us.
Essentially, the show exists as a vehicle via which Johns can deliver a series of short stories, generally focussing on the bleaker side of domesticity (a father revels in a work trip which affords him a night off from his screaming baby, an escaped victim of spousal abuse counts the cost to her self-esteem). While these are certainly accomplished and resonant, and none outstays its welcome, a tighter focus on the theme of mid-life crisis might have made for a more coherent experience overall.
There is a degree of (consensual) audience participation (on the night I attended, some of Johns's family members were present, which added to the celebratory atmosphere); during the interval, we are invited to contribute written notes of the theme of middle age, providing much scope for poignancy and humour; and one of the highlights of the second act is a pub-style quiz based on the show's themes (modesty forbids).
Although the show inevitably shades into a nostalgia-fest of the kind which speaks particularly to those who will remember Cardiff nightclubs of the early 1990s, there is much here to please any casual theatre-goer. A highly enjoyable evening, in the company of an engaging host.
Reviewer: Othniel Smith