Dick Turpin Rides Again
Berwick Kaler
Crossroads Pantomimes
Grand Opera House, York
–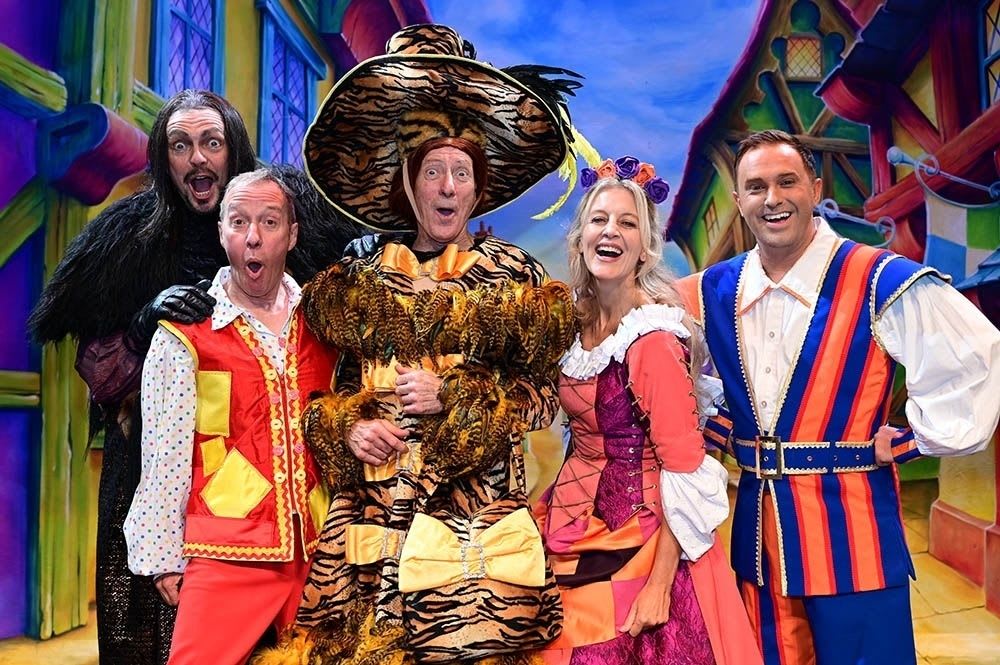 Berwick Kaler is a pantomime legend ("Oh, no he isn't!" "OH, YES HE IS!!!"), having spent forty gloriously silly years as York Theatre Royal's royal dame-in-chief. It's not often that the farewell bow of a stage performer grabs national attention, but Kaler's retirement in 2019 with The Grand Old Dame of York was covered in numerous papers. Furthermore, he received warm congratulatory messages from various theatrical stars who cut their teeth in his early shows, including multi-award-winning actor Imelda Staunton and Old Vic artistic director Matthew Warchus.
I won't rehash Kaler's acrimonious split from York Theatre Royal (something which is touched upon early on in the show) except to say that both he and his top-notch ensemble of performers are now happily situated in York's Grand Opera House with their latest offering, Dick Turpin Rides Again. Although Kaler's final show in 2019 was extremely well done, I must admit that it was a pleasure to see him back on the stage again with his terrible wig and hobnail boots.
If you have seen one of Kaler's pantomimes before, then you will know that they are not overly concerned with plot. This particular outing focuses on the Donut family—comprised of matriarch Dotty Donut (Berwick Kaler) and her two bonny bairns, Dunkin (Martin Barrass) and Donna (Suzy Cooper)—who cross paths with highwayman Dick Turpin (Daniel Conway), the villainous Vermin the Destroyer (David Leonard dressed like Rasputin) and an enigmatic idiot with shifting allegiances named Luvlie Limpit (A J Powell).
I am a relative latecomer to Kaler's pantomimes (my first was Robin Hood and His Merry Mam back in 2012) but, overall, I would say that Dick Turpin Rides Again contains many of the essential ingredients that have made his previous shows such a joy to watch. Like all the best dames, Kaler excels at building a rapport with his audiences, plus—of course—many of those in attendance will have watched him perform over many years, possibly even decades. While there were occasional stretches where the laughs were in short supply, there were also plenty of moments (such as David Leonard's microphone malfunctioning) where Kaler got to show off his sharp comic instincts.
I have mentioned Kaler a lot so far in this review—which is understandable considering that he is the star, writer and director of the show—but of course the other members of the ensemble, some of whom have worked with Kaler for decades, have played an absolutely essential role in the pantomime's continuing popularity. David Leonard is utterly brilliant—and always has been—as the villain, delighting in the audiences' boos and hisses. Unfortunately, he is given less stage time here than in previous productions, but he still manages to steal every scene in which he appears.
Suzy Cooper is reliably wonderful as Donna, bringing huge energy and commitment to the role. Her transformation into a vampire in the second half was side-splittingly funny, particularly when one of her fangs popped off. Martin Barrass is a first-rate sidekick, forming a likeable mother-son double act with Kaler, and there is lovely comic support from A J Powell. Daniel Conway's dashing Dick Turpin occasionally seems a bit adrift amidst all the craziness, but he gets to show off his impressive singing voice at the end of the first half.
Grace Harrington's high-energy choreography is ably performed by a talented sextet of dancers, and there's strong musical support courtesy of Rob Thorne and his band.
While I enjoyed the show's fairy-tale set designs, I missed the visual excess of Kaler's previous shows. If (hopefully when) Kaler and co. return to the Grand Opera House, I hope there will be more outrageous costumes and props.
Although not one of Kaler's best outings, I still enjoyed Dick Turpin Rides Again and look forward to seeing him and his castmates next year.
Reviewer: James Ballands