Dick Whittington
Fine Time Fontayne and Kevin Shaw
Oldham Coliseum Theatre
Oldham Coliseum Theatre
–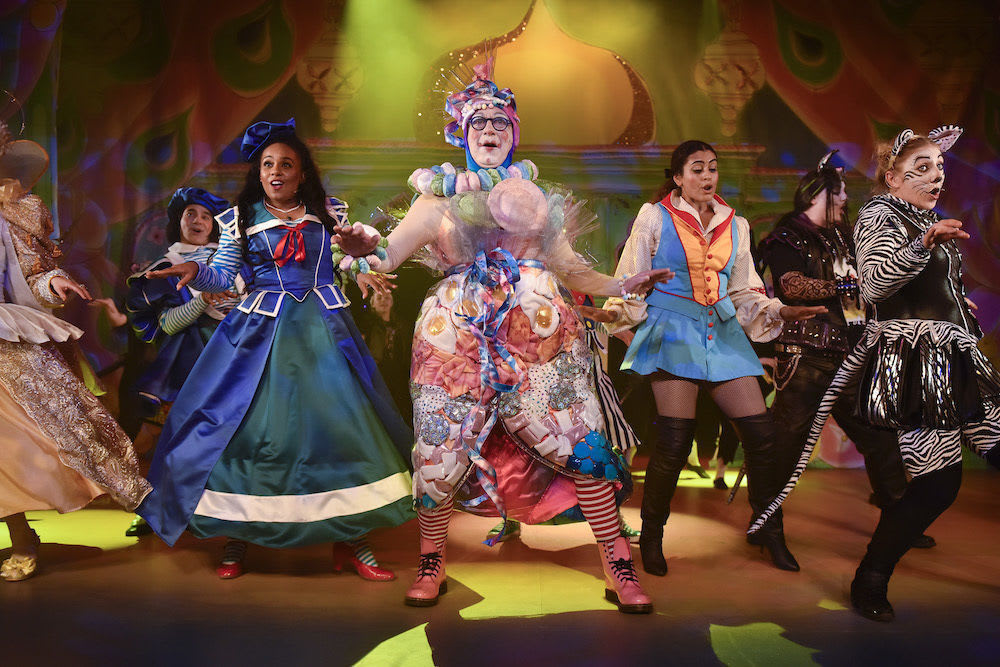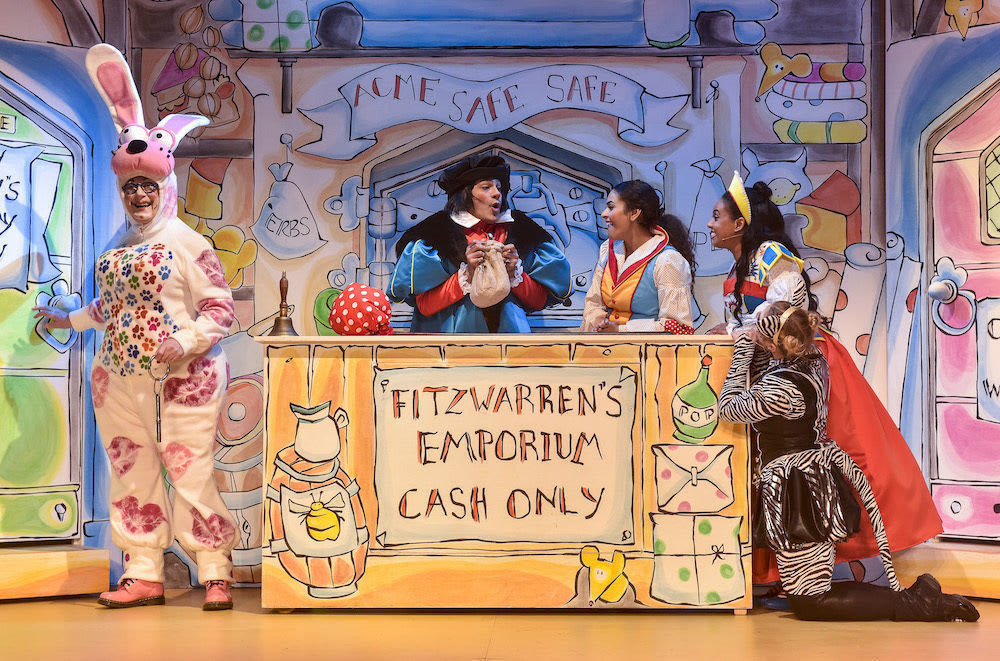 John Barrowman isn't the only Dick in town this year, as the Coliseum returns to a title last done by them in 2011, also penned by Dame Fine Time Fontayne and director Kevin Shaw, with some of the same cast.
And yes, the innuendos associated with this panto hero's name are all present—"five miles to London and still no sign of Dick"; referring to Tom the Cat as "Dick's Pussy"—but, as a compromise to family audiences, attention is not drawn to them. We have yet to see whether Barrowman will be as restrained.
Still the most striking think about Oldham's pantos is Celia Perkins's wonderful designs, giving a modern picture book feel to the whole show with loads of great visual gags hidden all over the painted backdrops if you care to look around. The costumes fit this design perfectly, and the Dame's many outfits are architectural masterpieces.
The Coliseum still clings onto some panto traditions, even ones that are starting to fade elsewhere such as the female Principal Boy. Nina Shadi fulfils this role perfectly well—frequently mentioning he is "from Oldham" and slagging off neighbouring Rochdale to stay in with the locals—with Shorelle Hepkin also fine as Alice Fitzwarren, a fairly passive Principal Girl character—another fading tradition. Miley Rose is an impressively acrobatic Tom the Cat.
After dropping out last year following a rehearsal injury, regular Dame and co-writer Fontayne is back as Saucy Sarah Suet and back on his usual form, playing mother to another Oldham panto favourite, Richard J Fletcher as Silly Billy. Another regular on the team is Renny Krupinski who has choreographed some pretty impressive fist and sword fights.
Simeon Truby, who took over from Fontayne last year, now takes the Villain role as King Rat, but he isn't the elegant baddy as portrayed last time by Adonis Anthony but a greasy, leather-clad biker, a "Rat Out Of Hell" in fact. He covers that song so well that the audience gets confused with its responses, having to turn its spontaneous cheer at the end into a "boo".
There is a good mix of songs of different styles and from different eras, although Principal Boy and Girl get saddled with the modern dancey pop numbers that are very repetitive and never sound great live. MD Dave Bintley's 3-piece pit band sounds great, although with backing vocals occasionally coming from nowhere and the sound of tap dancing when the dancers are wearing jazz shoes, I have suspicions of some recorded elements to the music.
Everything is there that you would expect, from the slosh scene in the kitchen to the "behind you" scene with the ghost and it all comes off with efficiency if not with a great deal of originality. It's all been done before and done better, but it's not bad. The songsheet section, however, does go on a bit; when it's already quarter to ten, there's no need to get kids on from the audience and then do "my side is better than your side"—one or the other is quite enough.
But apart from stars off the telly, it's got all the elements you would expect from the big pantos on a smaller scale—and with a smaller ticket price. If you can't get in for this year, you can already book for next year's Cinderella. Oh yes you can!
Reviewer: David Chadderton