Dick Whittington
Trish Cooke and Robert Hyman
Theatre Royal Stratford East
–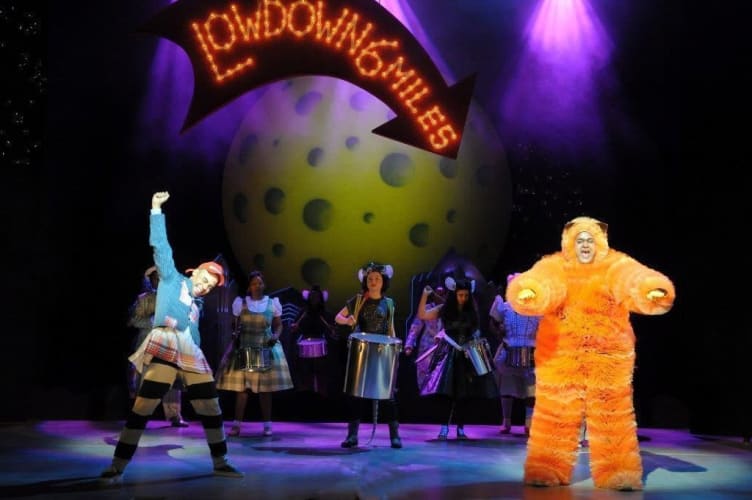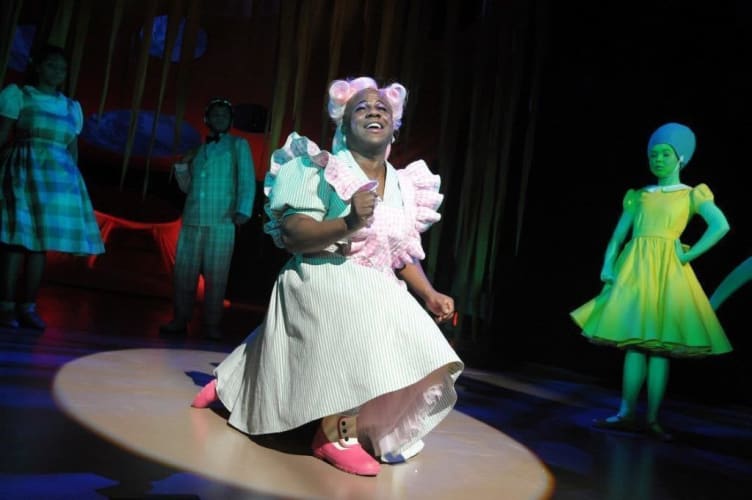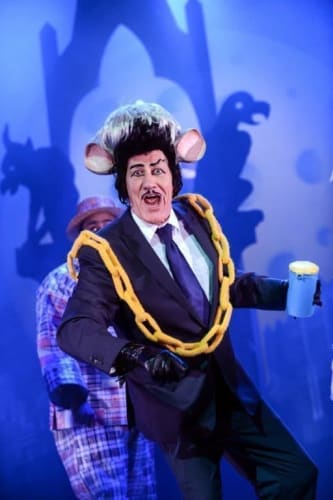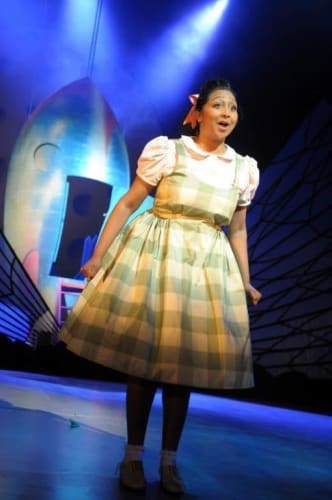 Deaf performer Caroline Parker (who wowed us all at this address in Signs of a Star Shaped Diva) combining song and signing as she does the warm up as Fairy of the Bells is just one of the things that marks this Theatre Royal panto as very special—and she does it in the most unflattering actual bell-skirted costume like your favourite auntie rather than a glittery ballerina.
In this modern tweaking of the story, Trish Cooke as Dick seeks his fortune looking for the gold-paved streets of Lowdown, a place still not far from Bow Bells, where King Rat, his ears disguised by a white wig, is Mayor and extorting exorbitant taxes. It is here that he encounters Alice Fitzwarren carrying cheeses to the family cheese shop and rescues her from the predations of King Rat's hench-rats: Boomtown, B-ratz and Ratatouille.
To give Dick help and protection, the Fairy turns a little ginger kitten into giant Cool Cat: big cuddly Tony Jayawarden in fur of orange, rippling ruffles. This loyal but not too clever puss may not very good at it but, with the audience on his side, big-smiling Ashley Gerlach's lively street-boy has a theatre-full to look out for him.
Dick gets himself a job in the Fitzwarren cheese shop but, after being drugged by the rotten rats when supposed to guard a valuable cheese Fitzwarren brought back from the moon, he gets the sack, losing the support of Rose-Marie Christian's Alice along with the job.
Gurpreet Singh's perky Fitzwarren in natty red bow tie and straw hat was hoping to be elected the new Mayor of Lowdown but now he needs to replace his lost exotic cheese and rockets off to the moon (helped by Robin Fuller's animated projections). Dick and Cool Cat sneak aboard and they go too.
That's where Cool Cat, helped by an audience, well-trained rat-catching felines by the Cat and the Fairy, save everyone from disaster and the wrath of Miranda Menzies's cod-oriental-sounding Moon Queen (the Theatre Royal is so multi-ethnic that it's not-offensive) and her alien monsters so that King Rat ends up sacrificed in a volcano instead of Alice or Dick.
When they get back, Fitzwarren wins the election but declines the post and insists it goes to the even more generous-hearted Dick. The Stratford audience clearly takes this show to its heart too; there couldn't be a friendlier, more heart-warming panto.
Jenny Tiramani and Harriet Barsby have given it a colourful recycled look that matches its high spirits and exotic demands. There is lively dancing and tuneful singing with Robert Hyman once again not only providing a score with a sparkling collection of numbers but pounding away in the orchestra pit with an effervescent energy that helps to drive the show.
Director Kerry Michael has given this year's panto a special twist but it is still has those panto essentials: a great song sheet number, the fairy, the villain and the dame. Stratford regular Michael Bertenshaw clearly relishes being this year's baddy as King Rat (with a few Dick jokes subtly slipped in the script just for the grown-ups). He relinquishes the dame role to a first-timer. Shirley the Cook is a delicious dame debut from Delroy Atkinson who bursts with bubbly enthusiasm and brandishes a rich diva voice.
The Theatre Royal at Stratford East has done it again and even managed to avoid the over-amplification that so often affects the modern panto. Perhaps one number goes on just a tad too long, but one leaves the theatre with a feeling of sheer pleasure—and it felt as though everyone in the theatre agreed.
Reviewer: Howard Loxton