Dick Whittington and His Cat
Mark Clements, with original music by Andrew Allpass
Salisbury Playhouse
(2008)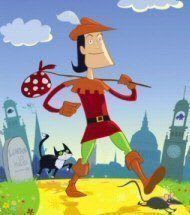 Gloucestershire-born Richard Whittington, dealer in fine silks and thrice Lord Mayor of London, has long been a familiar figure on the Salisbury stage.
Christmas pantomimes featuring Dick Whittington have been taking the Salisbury stage since 1951. First, Marion Grimaldi appeared as Dick with Joan Sims, no less, in the chorus, then in 1972 with Roger Clissold directing and Elwyn Johnson as Dick, and again in 2002 a new version by Joanna Read and Richard Thomas directed by Hannah Chissick with Rebecca Stokes in the title role.
This week Dick Whittington returned to the Playhouse once more in yet another version, this time by Mark Clements with original music by Andrew Allpass and direction again by Hannah Chissick.
In the doublet, hose and boots of Dick this year is the very shapely Emma Westhead with a comely companion in Sarah-Lee Dicks as Alice Fitzwarren . Both sing well and move easily about the stage aided by nice comic touches from the lively Peter Caulfield as Billy.
As for Nyron Levy as Tommy the cat, he is finely feline and as agile as most of his breed. But I'm not so sure about the 'meows' as I have been brought up on talking Tom-Cats from Manchester Palace to the Players' Theatre pantos, for those of more mature years.
At this point one has to say that originality ends. This is, after all, a traditional panto with all the seasonal jokes, as well as some that have been around for many seasons. Fine for the children who have never heard them before. Not so easy for us older youngsters who, alas, hadn't heard them either. Many of the jokes and popular references in this year's show seem to have been plucked from an unfamiliar period between my youth and that of today's teenagers. And it seems to me that modern badinage doesn't wear as well as that of our forefather's day!
Never mind, this is a charming exercise in family entertainment, something rare enough nowadays.
Philip Witcomb's colourful designs, if you can forget that Big Ben was not around in Dick's day, are well revealed in Philip Hunter's lighting with a cheerful score from Andrew Allpass aided by percussionist Brent Keefe.
There is a fine display of histrionics from veteran Frank Ellis as Fitzwarren. Here is a face and a voice for some long-serving Playhouse regulars to identify with.
And Joseph Alessi is a suitably menacing King Rat while Laura Checkley as Fairy Bow-Bells almost, though not quite, makes me forget what my old Fairy Godmothers were like in far off days of yore.
"Dick Whittington" runs at Salisbury Playhouse until Saturday 3rd January 2009
Reviewer: Kevin Catchpole