Die Walküre
Richard Wagner
Bayreuth Festival,
Festival Theatre
(2004)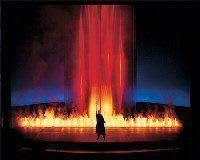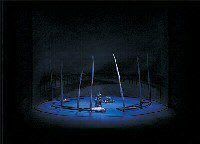 So much water has flowed under the bridge since concern was expressed for the sisters and daughters of Englishmen when Richard Wagner's Walküre was first performed with the Ring in Löndon at the Theatre Royal, Haymarket in 1822.
Those of their heirs and successors who made it to this year's festival revival in Bayreuth would be hard put to identify the cause of all the fuss, for Jürgen Flimm's handling of the offending scene is discretion personified.
Robert Dean Smith (Siegmund) and Eva Johansson (a powerful Sieglinde even by Wagnerian standards) have far too much singing between them to have time for hankey pankey. Yet err they must or the whole saga stumbles.
After the dramatic events of Das Rheingold the previous evening, Die Walküre is a sobre, sombre experience. Even the director seems to find it a bit much at times and loses his way. Such as at the opening of Act three when Wotan's outgoing Valkerie daughters ought to delight us with their riding. Whatever they were up to on those ropes, it all looked a tad chaotic!
Since the melee hardly affected their singing and Adam Fischer's fine orchestra couldn't see it anyway, it didn't matter.
Siegmund and Sieglinde's reunion in the woodland hut is a sophisticated affair in Erich Wonder's design. Table coths and upholstery are matched by Philip Kang's performance as an inscruitable Hundig, never allowed to upstage the incestuous lovers, both brilliantly sung by Dean Smith and Johansson.
Mihokö Fujimura continues her fine singing of Fricka but if Sieglinde has a rival for the evening's honours it is in Evelyn Herlitzius' captivating Brünhilde. This favourite but wilful daughter is revealed with the purest soaring soprano that brings the best out of Alan Titus' hitherto stolid Wotan. The beauty of their closing duets as angry father is humbled by his own compassion has to be seen and heard to be understood.
Wagner's score gives some of his finest endeavor to these moments of Walküre. Even if the fire is a bit overdone, the final picture is a memorable indication of things still to come.
Reviewer: Kevin Catchpole