Dinner
Moira Buffini
The Actor Works Company and Southside Arts
Brockley Jack Theatre
(2008)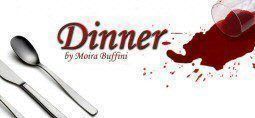 Forget Delia Smith opening a tin of mince; for shock factor it doesn't get close to what socialite Paige cooks up for her guests in Moira Buffini's award-wining play Dinner.
Privileged Paige, whose hostess skills were polished at finishing school, herself describes the meal as a "creation, like Frankenstein's monster" so we are on alert from the outset to expect a twist in the tale - in this case, in fact, a twitch from the main course served up not only raw, but still alive.
The dinner party has been convened to celebrate the success of Paige's husband's book, and for this special occasion Paige has hired a strangely silent waiter she found on the internet to serve the unique feast she has painstakingly planned.
Paige is as sarcastic and wounding to husband Lars as to their guests, the first of whom to arrive is Wynne, newly re-found college mate of Lars, who upsets the table arrangements by failing to arrive with her partner, having just been jilted.
Next are odd couple Hal, a scientist working at "the cutting edge of germs", and his new wife, Sian, a "sexpot" TV newsreader for whom he has a barely-disguised loathing.
The empty place at the table is taken by unexpected working class stranger Mike, who has crashed his van in the thick fog and comes to the house for help, and whose presence provides a murder mystery quality to the event.
With all the diners present and wine flowing freely, retributive abuse is flung about like razor-sharp confetti. It is often unsettling but always entertaining, being acutely well observed and witty; it is cruel and yet easy on the brain.
The cast work extremely well together and I soon forgot that they are rather on the young side for their parts and, in spite of a couple of fluffed lines causing a blip in an otherwise smooth, 90-minute haranguing, their timing is spot-on.
Davin Eadie makes a welcome return to the Brockley Jack (having been a most agreeable Joe in Great Expectations there over Christmas). As Mike he has some of the same charm and keeps us guessing as to how much, if anything, we should believe.
Lainey Shaw is wonderfully funny as the hippy erotic artist Wynne who, even under the harshest provocation, speaks as if addressing a small child; her tormentor, sharp-minded Paige, is well executed by Trudi Boatwright whose diction is well-suited to spitting out all that invective with callous precision.
The audience are set around three sides and the staging works well with the guests sometimes appearing to prowl around the dinner table like hunters eyeing their next victim though the lighting is too harsh and the set design is disappointingly un-thought out.
The music has been well selected and O Fortuna from Carmina Burana (familiar as The Old Spice music) is used to particularly good effect when Paige's lunatic idea of dinner reaches a crescendo.
One of the characters remarks that Paige is "very good at enjoying the discomfort of others"; having been greatly entertained by this display of savage cruelty, I am somewhat disquieted by the thought that so am I!
"Dinner" is on at the Brockley Jack until Saturday, 1st March 2008, Tuesdays to Saturdays only starting at 8pm and running without an interval. This play is not suitable for young people and contains strong language.
Reviewer: Sandra Giorgetti