Dirty Dancing
Eleanor Bergstein
Aldwych
(2006)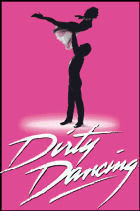 There have been two important measures of Dirty Dancing's sensational success in the week of its opening. First, the morning news on Radio 4 has told the nation that this show has had the biggest advance sales ever seen in the West End. Secondly, to prove the point, our old friend the ticket tout has made a reappearance on Aldwych, doing an uncanny impression of George Cole in the St Trinian's movies.
In dramatic terms, Eleanor Bergstein's book and dialogue require the suspension of an awful lot of disbelief. One suspects that the story is semi-autobiographical but the schmaltzy romance of an innocent seventeen-year-old's coming-of-age has the intellectual depth of an underdeveloped fairy tale.
At times, one also wonders whether the writer has been challenged to create dialogue that is entirely formulated from clichés.
However, this is not what this show is about. Dirty Dancing is really about sex presented with a romantic veneer through the paradigm of dance; and, at its best, that is where this production excels.
On the basis that it will give fans exactly what they want, it is destined for a long and happy stay in the West End and an incarnation on Broadway must be a racing certainty.
Like the National's latest sensation, Caroline, or Change, Dirty Dancing is set in 1963 as the Civil Rights Movement begins to excite American youth. The exploration may be tame here but at least sweet, seventeen-year-old Baby is a naive idealist who hates to see people downtrodden.
Georgina Rich once again proves herself to be a talented actress building on the reputation that she created with her performance in Honour playing Dame Diana Rigg's daughter.
Baby joins her family in the land of Hi De Hi at an American equivalent to Butlin's in the Catskills. Fascinating Aida's Issy van Randwyck is mum, while all-American Doctor dad is played by David Rintoul. He is perfectly cast, having spent so long as Doctor Finlay that he could probably carry out an operation in real life. He also turns his hand pretty capably to song (especially in a nice duet with his wife) and dance, as well as flexing acting muscles honed at the RSC.
We also have the misfortune to come across Baby's boringly vain older sister Lisa, played by Isabella Calthorpe, who, presumably under the instructions of her director James Powell, mugs madly throughout, either to the amusement or intense irritation of the audience.
The plot contrasts rich Robbie, to be honest a rather gay looking waiter who thinks nothing of "knocking up" the odd girl or two, with the incredibly muscular dance teacher Johnny Castle. The latter is played by Josef Brown, a man who was once a principal with the Australian ballet and dances brilliantly but whose acting talents, showing all of the emotional range of Arnold Schwarzenegger on a bad day, look wooden next to his female lead.
The show takes a bit of time to get going but really takes off when Johnny and his normal dancing partner, Penny "the blonde with the legs" played by the lithely brilliant Nadia Coote, strut their stuff to Eric Carmen's Hungry Eyes. This is a Meatloaf-style power ballad that the unkind would suggest comes from a much later era. From that point onwards, Kate Champion's choreography and her well-drilled crew provide a feast for the eyes.
Penny's unwanted pregnancy causes all kinds of problems but it does throw Baby into the massive arms of Johnny, with the aid of a legendary watermelon. After lots of loving and a little dancing, the heroine is eventually enabled to shuck off her childish nickname and become a real woman, Frances.
The show builds to a tremendous finale, first as Johnny at his sexiest dressed in black and a biker's leathers announces to general glee that "nobody puts Baby in the corner" and then drags her on to the dance floor to lead the night's big number (I've Had) The Time Of My Life sung live by Shonagh Daly and Ben Mingay.
By the time that the team of dancers move into this best routine of the evening, the weaknesses have ceased to matter. The audience is going absolutely wild and has returned to those innocent days of youth that have marked Dirty Dancing as a formative part of their lives and Patrick Swayze as a superhero.
This may not be as good as the original but it has enough life, allusion and well choreographed dance routines performed by beautiful people to guarantee that the nostalgia will keep the touts in business for years.
Visit our sponsor 1st 4 London Theatre to book tickets for Dirty Dancing.
Reviewer: Philip Fisher