Ditch
Beth Steel
High Tide and Old Vic co-production
Old Vic Tunnels
(2010)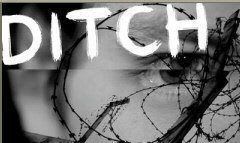 Last year Adam Brace's beautifully staged Stovepipe transferred from the High Tide Festival in Suffolk to the basement of a shopping centre in Shepherd's Bush and made fantastic use of the space to depict the horrors of soldiering in Iraq.
Ditch, which has the same designer, takis, is another site specific work that follows High Tide by opening the atmospheric and frankly rather terrifying Old Vic Tunnels underneath the rail lines at Waterloo Station.
The space is adorned with symbolic items that could have been borrowed from an extended Damien Hirst installation, complete with earthy odour. The relevance becomes more apparent in the more traditional theatre space, where, on a stage made of mud, we witness a group of stragglers during a nuclear winter in the Peak District in "the future".
Gloomy apocalyptic plays seem to have come into fashion, as Ditch follows hard on the heels of A Thousand Stars Explode in the Sky by David Eldridge, Robert Holman and Simon Stephens at the Lyric, Hammersmith.
Richard Twyman's production values are impeccable, although hardly helped by the rumbling trains passing echoingly overhead every few minutes.
The circular playing area under a curved ceiling beneath railway arches is enhanced by highly effective light- and soundscapes courtesy of Matt Prentice and Christopher Shutt respectively, not to mention numbers of dead animals that help the group to survive.
Until a dramatic finale that drew gasps of astonishment from some audience members, Beth Steel's debut explores the minutiae of living when few mod cons beyond radio remain, though jets roar overhead. It also allows us to ponder the likely regression that occurs in ordinary people after civilisation as we know it disintegrates. Love offers some hope but not too much.
The six character are a rum lot. The older generation is represented by Danny Webb's ineffectual Burns and Dearbhla Molloy's officious, controlled but possibly passionate Mrs Peel, a woman who protects her Christian name with the same commitment as her virtue.
Mrs Peel's protégé is the rather simple Megan, Matti Houghton as a girl who falls in love with a soldier, never a good idea in the middle of a bloody war.
The remaining trio are ramshackle squaddies left over to act as security for something that is never identified and that is where Ditch would have benefited from being a little more explicit. The audience is offered occasional morsels of information regarding the war that is raging but, by the end, will struggle to grasp the history and politics behind this blasted Britain or why Venezuela has become a strategic centre.
The play benefits from good performances all-round but is left to rely for its appeal on all of the characteristics of a grim existentialist exploration of not very much, which is then filtered through the medium of low key science fiction.
Reviewer: Philip Fisher