Divas
Choreography, production, direction, set, costumes and lighting design by Peter Schaufuss
Apollo Theatre
(2008)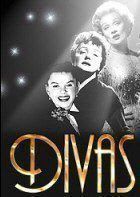 Peter Schaufuss describes Divas as "a dance spectacular". He was here last year at the Apollo Theatre with "a dance concert" called Satisfaction, to 23 songs by The Rolling Stones, which gave little satisfaction. .
The present show celebrates three legends in three separate acts. A chance to hear Non je ne regrette rien, Sag mir, wo die Blumen sind, Over the Rainbow and twenty-seven other songs sung by Edith Piaf, Marlene Dietrich and Judy Garland sounds a great way to spend an evening.
The first act is devoted to Edith Piaf (1915-1963). The songs are sung in French. The elegant, leggy, extremely tall and very likeable Caroline Peter looks nothing like Piaf. She is so tall that Schaufuss, unable to find a partner tall enough to partner her, provides her with a high backed chair to play with. The chair, inexplicably, becomes a motif in all three acts.
The pleasure is not in the choreography but in the singing. If you want to know something about Piaf you will have to wait until August when the Donmar Theatre is reviving Pam Gems's play.
If you want to have a good cry, see the French film La Vie en Rose with the stunning Oscar-winning performance by Marion Cotillard. Piaf's singing on the soundtrack increases the emotional punch immeasurably.
The second act of Divas is devoted to Marlene Dietrich (1901-1992) singing in German. Zara Dakin, encased in fur, looks like the iconic image of Dietrich's cabaret performances in theatres all over the world towards the end of her career.
Schaufuss sends up the Germans with some sledge-hammer, clichéd spoofs. The goose-steps, Hitler-moustaches, lederhosen, Nazi salutes and the inevitable black underwear and suspenders recall Cabaret and the Kit Kat Club but, unfortunately, the choreography does not have Bob Fosse's wit.
Dietrich's most famous song, Where Have All the Flowers Gone certainly does not need any naff additions, such as grave stones, flowers, falling petals and a Nazi Youth saluting. All you need is Dietrich singing the song and Dakin just standing there dimly lit. The dancing adds absolutely nothing. The song says it all.
The third act is devoted to Judy Garland (1922-1969) with Irina Kolesnikova. Once again the choreography is instantly forgettable.
In the printed program Schaufuss makes this statement: "The performance tonight is not biographical and you will not find any exact plot. The performance has to be seen as a whole – as an impressionist painting, expressing feelings of love, hate, contempt, joy, disgust and guilt and showing small pictures through a pattern of movements, allowing the audience to interpret it for themselves."
I saw no hate, no contempt, no disgust and no guilt.
Audiences would have been far better off seeing Derek Deane's dance spectacular Strictly Gershwin for English National Ballet in-the-round at the Royal Albert Hall.
Reviewer: Robert Tanitch