Doctor Faustus
Christopher Marlowe and Colin Teevan
Jamie Lloyd Company
Duke of York's Theatre
–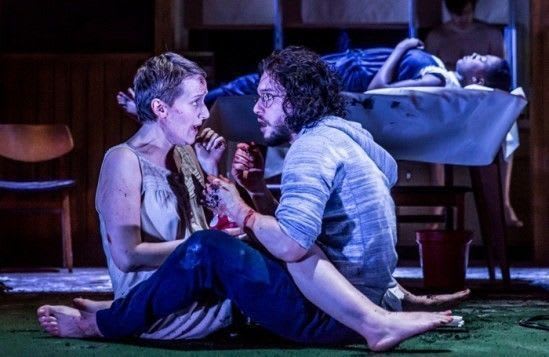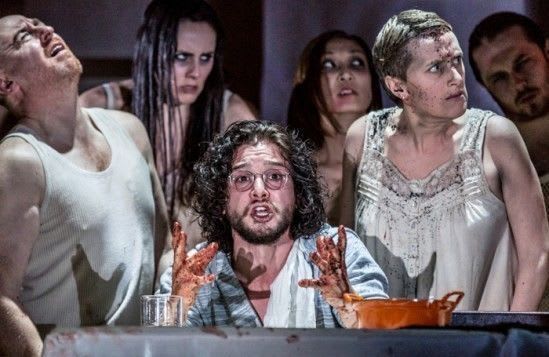 This star vehicle, directed by Jamie Lloyd for his own company, might well divide audiences into those who see it as a fatal car crash and others who enjoy a sexy, souped-up drag car spectacularly spewing gravel and smoke as it attempts to break the sound barrier.
To be frank, all that most of those queueing up to get tickets are likely to care about is their opportunity to see Kit Harington in the flesh, rather than making them hot under the collar in Game of Thrones.
He takes the title role alongside a strong though eccentrically chosen cast in which gender is not always predictable.
Indeed, the doctor's sparring partner Mephistopheles is played by Jenna Russell, clearly enjoying herself both in this role and giving an impromptu rock concert during the interval.
The early scenes take place in what looks like a typical 21st-century perpetual postgraduate student's bedsitter.
There, it seems likely that we are witnessing Faustus on a really bad trip, where everyone that he encounters is a zombie in dirty underwear.
The language used comes straight from Marlowe, which can be incongruous given the setting and modernity of the leading man.
As everybody knows in this modern myth, Mephistopheles, working for Forbes Masson's Lucifer, seductively offers Faustus 24 years of extraordinary self-indulgence in exchange for his soul.
The decision is made no easier by the efforts of Tom Edden as a Good Angel who does his damnedest (if you'll pardon the pun) to save the doctor from a hellish ending. Edden is rewarded for his efforts by an opportunity to depict the seven deadly sins in quick succession as a comic solo.
The transaction completed, Soutra Gilmour's set falls apart, while the text is taken over by Colin Teevan. The contemporary Irish playwright attempts to catch the spirit of his Elizabethan progenitor while injecting a least a little contemporary spin, bringing characters such as Obama, Cameron and Martin Luther King into the picture.
Now, Faustus has become a stage magician making the most of his Devil-given talents, assisted by his Mephistophelean sidekick.
Romance is introduced in the form of Jade Anouka playing the appropriately named Grace Wagner, a kind, simple soul intent on rescuing Faustus from both his darker side and evil playmates.
The overall impression of a continuing battle between good and evil is physicalised as the two leading ladies literally fight for their man. Eventually, the inevitable outcome leaves poor Grace brutalised and victimised in one of many scenes that will either strike viewers as wildly funny or deeply distasteful.
Marlowe gets the last words in a relatively sober ending to what had previously been a rowdy, sometimes very funny but rarely deep or meaningful evening.
The Kit Harington fan club will probably have a whale of a time but when they look back on the experience, most will struggle to follow proceedings during a visceral production that might have worked better either following the original from start to finish or avoiding it completely.
Reviewer: Philip Fisher