The Dog in the Manger
by Lope de Vega, in a new translation by David Johnston
RSC Spanish Golden Age Season
Playhouse
(2005)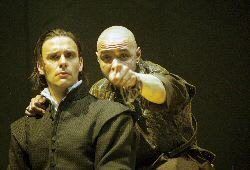 The RSC has a knack of unearthing classic gems and this Spanish Golden Age Season is packed with comic potential. The Season's theme is represented on stage by golden walls and floor, the latter creating weird inverted images that are perhaps meant to reflect the topsy turvy worlds created by these playwrights.
The Dog in the Manger was written in c.1613, by Lope de Vega whose Peribanez was such a success at the Young Vic a couple of years ago. For fans, there are also over 300 other plays attributed to this prolific writer, a man who wrote for more years than Shakespeare lived.
This new version of the play is lively from the start, with a modern translation from Northern Irish playwright David Johnston complemented by Laurence Boswell's direction. RSC Associate Director, Boswell has eschewed naturalism for a physical style that borders on slapstick and positively encourages overacting. This works well with a play that takes a wry look at love and fidelity.
In some ways, The Dog in the Manger is a little like a Spanish Twelfth Night. It is set in Italy (Naples) with mistaken identities and swapped loves. It also has a servant who gets above himself, a lost son and a pair of ageing comic suitors for the hand of the fickle Rebecca Johnson's nubile Diana, Countess of Belflor. The only thing missing is the cross-dressing.
This icy maiden's indecision in the face of love for a servant has ramifications that, like a collapsing pile of dominoes, quickly take on their own unstoppable impetus as she plays her coquettish games.
The object of the lady's ardour is her constantly overwrought, long-haired secretary Teodoro, played by Joseph Millson. This presents problems for his lover, Marcela (Claire Cox) who is forced on to Fabio (Joseph Chance) and so it goes on.
There is an old stage adage that you should never act with animals or children. At the RSC, this might be extended to Simon Trinder. He is making a habit of playing rascally servants that steal the show. He can effortlessly upstage the finest actors and delight an audience as he does so.
He plays Teodoro's servant Tristan ("You dig the holes, I stand in them"), an unscrupulous teller of tall tales who somehow, in the guise of a Greek Arab with a Liverpudlian accent, achieves the kind of immoral ending built on artifice rather than love, that Shakespeare never tries. This results from the arrival of John Stahl's richly bearded Ludovico, the kind of wealthy nobleman so blinded by love that he will believe anything.
It is refreshing and rather sad to see that while half of the members of Diana's circle end up betrothed, almost every one of them is unhappily so.
Laurence Boswell promotes the comedy over the drama. By doing so, he ensures that all of this is great fun, probably as much for the energetic actors as their audience. It is a good advert for the Spanish contemporaries of our own Bard.
"The Dog in the Manger" runs until 26th March
Steve Orme reviewed this production in Stratford and Peter Lathan in Newcastle
This review originally appeared on Theatreworld in a slightly different version
Reviewer: Philip Fisher