Don Giovanni
Music Wolfgang Amadeus Mozart, libretto Lorenzo Da Ponte
The Royal Opera
Royal Opera House
–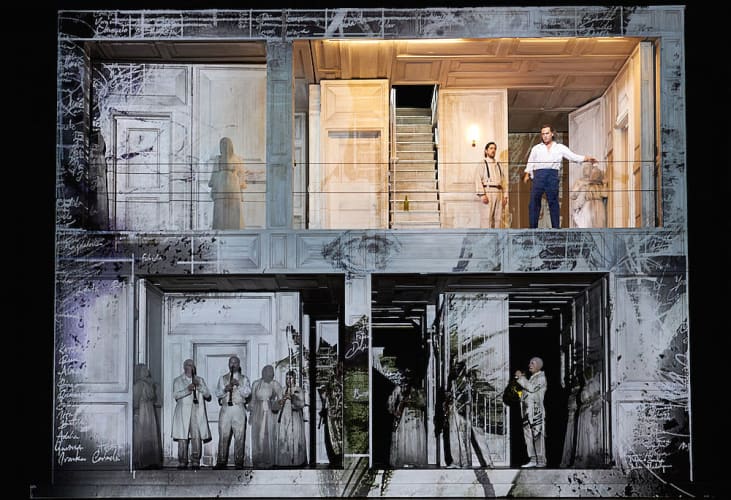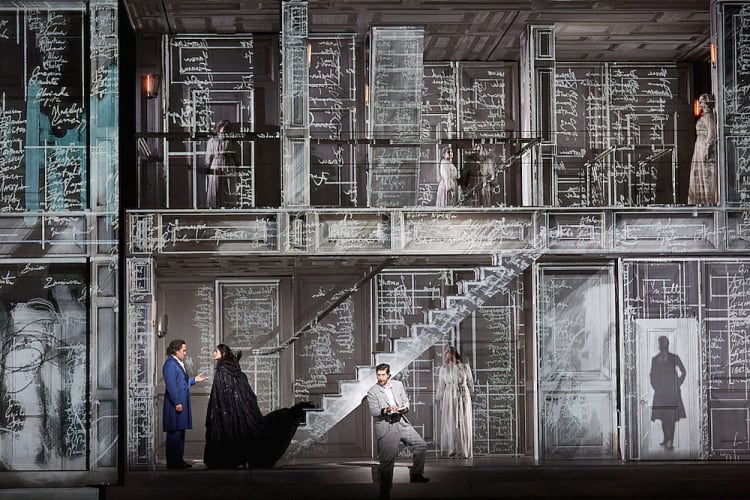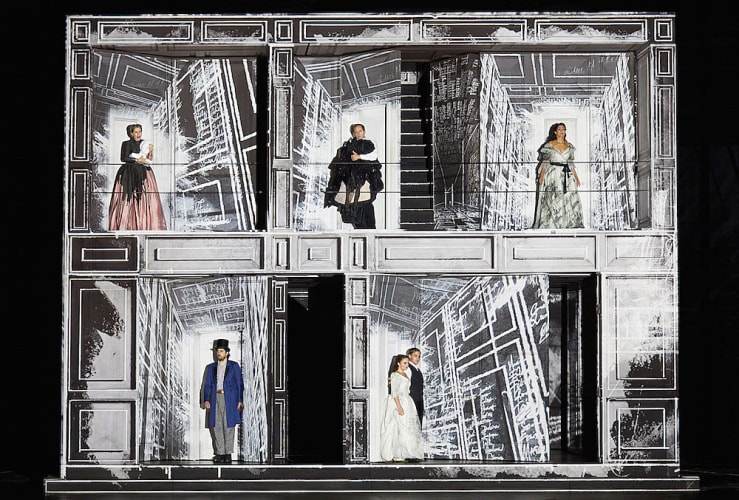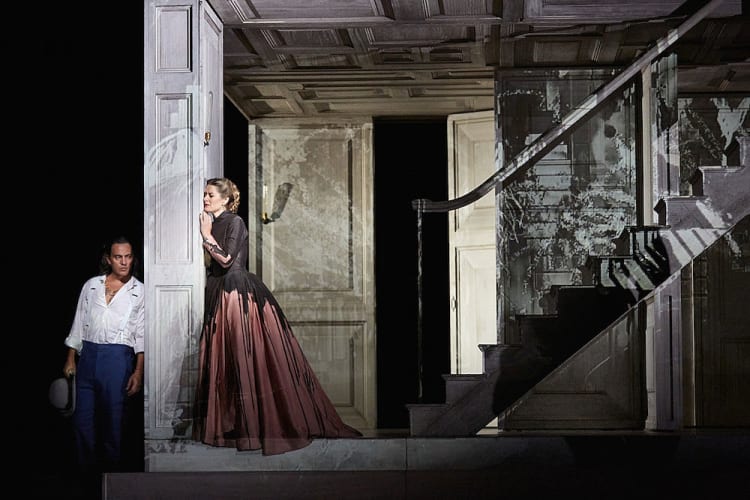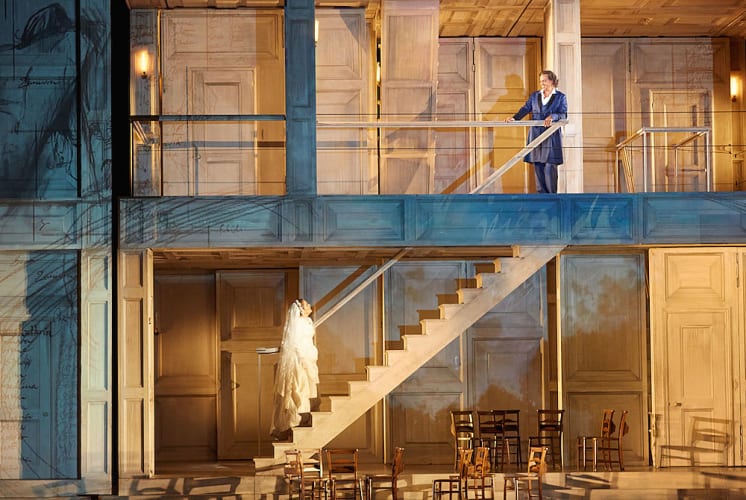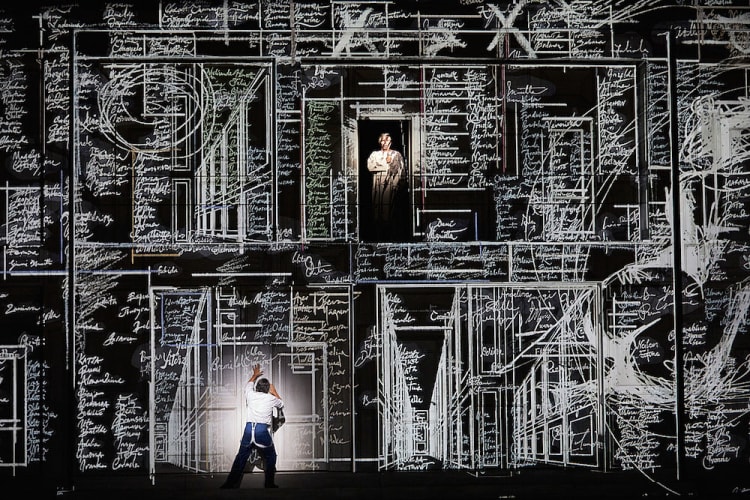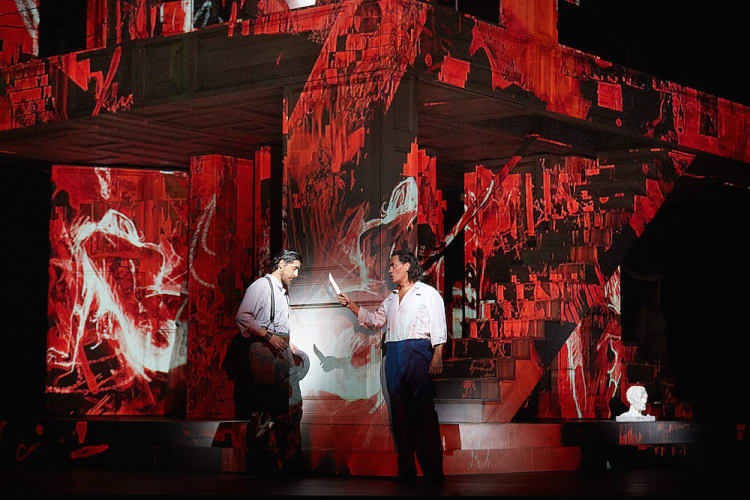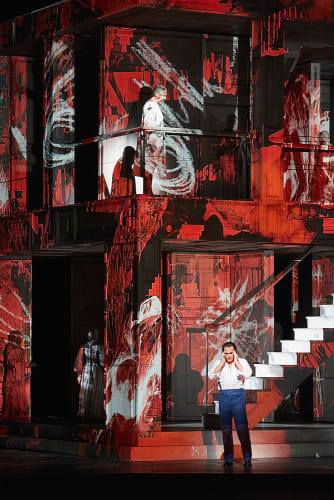 Kasper Holten's 2014 Don Giovanni production is revived for the third time (maybe this is why there are still plenty of seats) with the ever-popular Erwin Schrott (a magnificent Méphistophélès in Gounod's Faust earlier this year at ROH) taking on the eponymous dissolute rake, another diabolical role.
It's all about him, Giovanni, isn't it? Holten makes it even more so, turning Mozart's 1787 opera buffa Don Giovanni into a Hitchcockian, or perhaps Cocteauesque, psychodrama. Or maybe he's channelling The Matrix and Inception to make sense of the supernatural for modern audiences? Is Giovanni having a mental breakdown, deliberately seeking eternal damnation, daring fate to do the worst, male bravado at its best—or worst?
The performances are great: Italian bass Roberto Tagliavini's Leporello, Giovanni's put-upon servant and British soprano Louise Alder's (winner of the 2017 Young Singer award at the International Opera Awards) Zerlina are outstanding, warm and rich of voice, both keeping the buffa element alive and well. Leon Košavić completes this lowly trio as her new husband Masetto.
The serious aristos, no less cunning than the lower orders, maybe more so, lie with straight faces: Malin Byström's intense Donna Anna especially. Was she raped by Giovanni or was she a willing victim? Of course, once her father is murdered by her 'lover', she must keep up a holier than though front with her fiancé Don Ottavio (German Daniel Behle, a lovely soft tenor but barely audible at times). Cradling her father's bust in her arms (no big statue rearing at the back), a metaphor for her vengeance, she pursues Giovanni with sanctimonious zeal in order to protect her honour.
Poor Donna Elvira, gullible and loving, loyal and forgiving, how can she even contemplate this libertine? Greek soprano Myrtò Papatanasiu making her Royal Opera debut, replaces the advertised casting of British mezzo-soprano Christine Rice, and not surprisingly her nerves show a little. She cuts a bella figura in Anja Vang Kragh's gorgeous costumes, reminding me of the charismatic Maria Casares, Albert Camus's lover and star in Cocteau's Orphée, the underworld, where Giovanni is heading, if he's not there already.
Holten's interesting if overthought conceptual take on Don Giovanni gives one much to contemplate, especially its production design which distracts the eye and the ear away from the performers, who are not always visible against Luke Halls's video-projected graffiti (lighting Bruno Poet) on Es Devlin's Escher / Piranesi 'prisons of the imagination' set. The interior life manifest in the sterile set design… the dynamic of performance secondary to the director's vision… Mozart's opera as graphic novel…
A bleached, revolving (Giovanni's spinning mind?) cube of a building, two floors—could be a palazzo, an unfinished construction, a multi-storey car park—staircases leading to doors that don't always open, landings and balconies. Ghostly women, faces shrouded like Magritte's Lovers, shadowy figures, wander this purgatory, blend with the ecru walls.
Lists of Giovanni's conquests, thousands of them, scribbles and ink blotches, decorate and almost obliterate the house. A vortex of lies swirls about him, threatening to take him down, but he can't stop, the more women the better, he loves them all... Is his conscience troubled? Apparently not, but the Commendatore's blood-stained ghost stalks the terrain of Giovanni's subconscious mind like Caesar's bloody vision in Brutus's dream.
Ghostly musicians take to the stage for the masked ball, but there is no supernatural hell fire or demons when Giovanni accepts the Commendatore's (British bass Brindley Sherratt rumbles from the depths) reciprocal invitation to dinner.
Or is hell other people? And is all the seduction a remedy for Giovanni's metaphysical loneliness? Amorality and sex addiction, read Don Giovanni how you will, a narcissist, a charmer, a murderer, but he will not repent. He invokes the flames of hell—none here… Death is obliteration, the cursive script is erased.
Or are they all dead (Ibsen's When We Dead Awaken) and doomed to repeat and repeat… Does Holten know that Mikhail Chekhov wanted to stage a Hamlet in which all were in purgatory already? Are they all sleepwalkers?
Do Mozart's lightness of touch and seductive arias or Da Ponte's brilliant libretto need this Stanislavskian underpinning? I remember seeing Joseph Losey's 1979 film of the opera with Kiri Te Kanawa as Donna Elvira, Ruggero Raimondi as Don Giovanni and Teresa Berganza as Zerlina at the BFI with only six people in the audience—my spirit was transported.
Holten's stimulates the mind, but does not move the spirit. A tragi-comedy played more for Greek tragedy than comedy. A co-production with Israeli Opera, Gran Teatre del Liceu, Barcelona, and Houston Grand Opera, this revival is conducted tonight by Hartmut Haenchen at a leisurely tempo and will be relayed live to cinemas Tuesday 8 October 2019.
Reviewer: Vera Liber