Don Karlos
Friedrich Schiller
Volkstheater, Vienna
–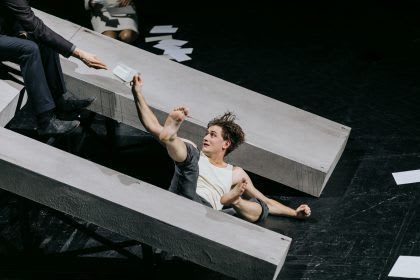 The Volkstheater in Vienna is an opulent delight, ornate and comfortable with the feel of an opera house from the glory days.
The façade is stunning, while the gold leaf and charming frescos of the auditorium might easily suggest that such a glorious venue would not be affordable by most of the folk for whom it was built. However, with a dozen or more pricing points between €5 and €50, that is far from the case.
Helpfully, for those whose German is far from fluent, productions are supported by its surtitles in English, located on high above the proscenium arch.
Polish director Barbara Wysocka relocates the action of Schiller's drama from the 16th century reign of Spain's King Philip II, a troubled country rife with intrigue and inquisitions, to equally turbulent modern times. Judging by the costumes, technology and background videos, we spend an evening that comes in at just under three hours watching events in Spain close to the end of Franco's long reign.
This is the setting for the master German playwright's complexly plotted tale of political and personal discontent that might be thought of as equivalent to Shakespeare meeting revenge tragedy.
At its centre is the titular figure of Don Karlos, played by the youthful-looking Lukas Watzl. The 23-year-old Prince has much in common with Hamlet and Watzl might well play that role perfectly judging by his thoughtful and moving performance in this role.
Like Shakespeare's troubled hero, Don Karlos has insuperable parental issues that threaten both his own and the country's stability.
In his case, the primary problem is that following the early death of his mother, the lad's tetchy father, Günter Franzmeier as Philip II has married a much younger beauty, Elisabeth of Valois, played by Evi Kehrstephan.
This international diplomatic match causes both political problems and personal, since young Don Karlos had been courting his new mother before her accession.
The levels of intrigue in this classic keep rising, with the secondary figures of Princess von Eboli and Marquis von Posa both getting deeply entangled.
The former is a lady who worships the young Prince but is lusted after by the King. This enables Isabella Knöll to give a superb performance, particularly when her character finds any hopes of happiness hopelessly dashed.
In the case of Sebastian Klein's Posa, there are trickier issues at stake, since not only is he required to double-cross those putting the country in danger, it is not always clear which faction he is supporting. The Marquis also has to tread a tricky line in trying to protect both the Prince's sanity and the country's security from almost equal threats.
A Brechtian influence is apparent throughout with props kept to a minimum in fashionable style, while signage features on a revolving wall almost throughout. Although much of the staging can look stark, there is some spectacle to impress with the depiction of an auto da fé potentially the stuff of graphic nightmares.
Any visitor to Vienna is urged to take time out to visit the Volkstheater which will provide a night to remember whatever the production. Even better, anyone in the city in time to view this unusual reading of Don Karlos will have an opportunity to witness the play in its original language while enjoying a fresh modern version of a challenging but rewarding classic.
Reviewer: Philip Fisher