Don Quixote
Production and choreography Carlos Acosta after Marius Petipa, music Ludwig Minkus
Royal Ballet
Royal Opera House
–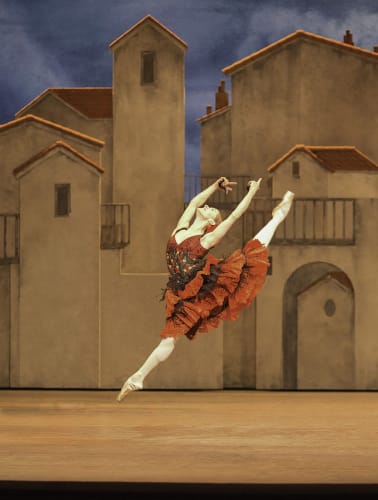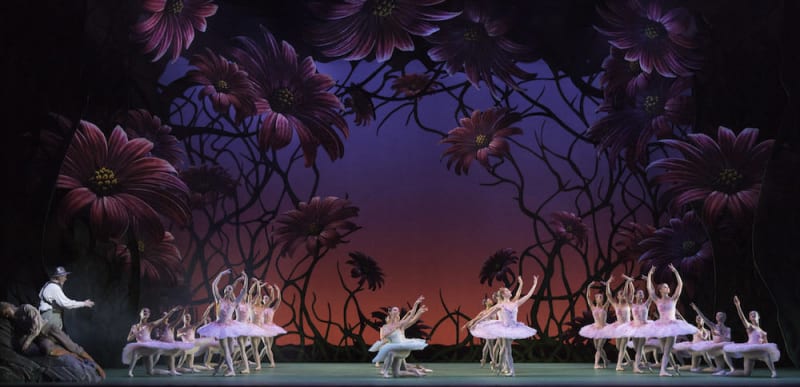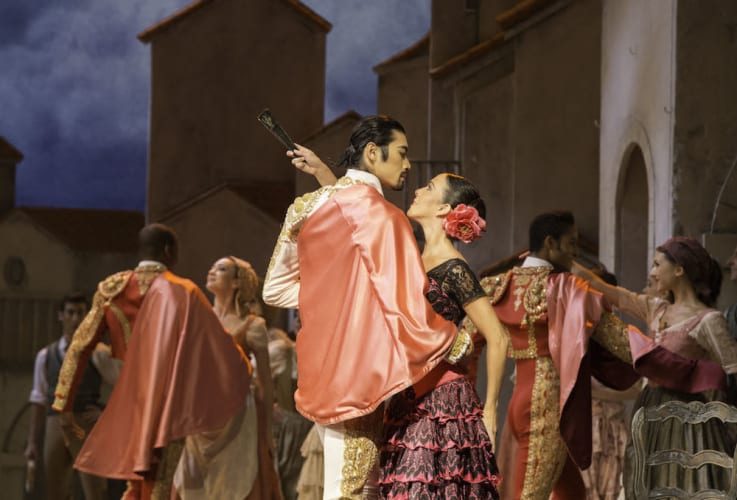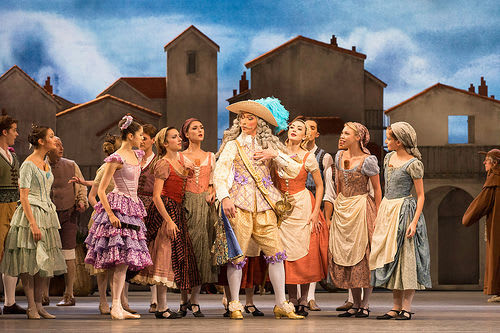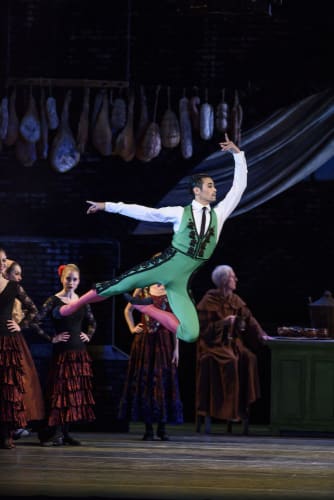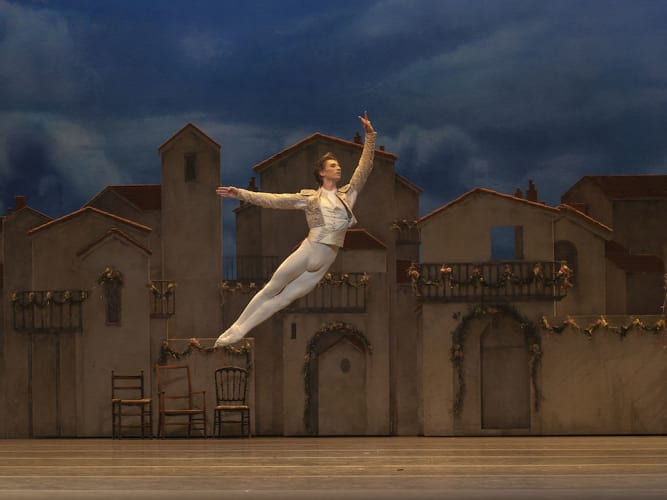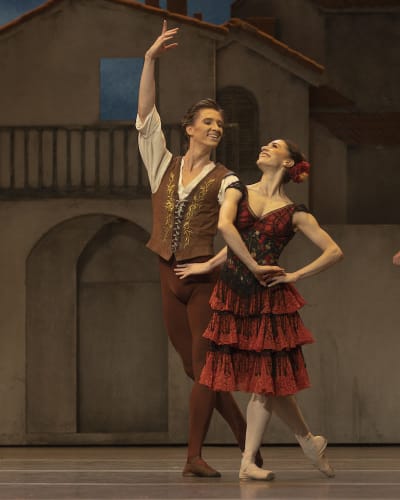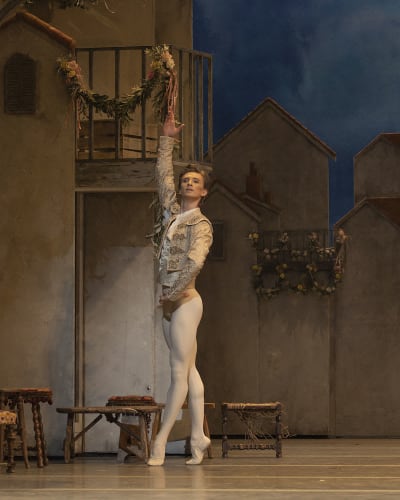 "Unmitigated joy" says my neighbour at the Royal Opera House after the prologue and first act of Don Quixote. Much needed, say I. The joy doesn't stop there; it increases, smiles widen. The Grand Pas de Deux in the final, third, act brings the house down: cheering, clapping, foot-stamping, the audience won't let Marianela Nuñez and Vadim Muntagirov, the young lovers Kitri and Basilio, go. Curtain call after curtain call, and do they deserve it. An amazing partnership, fantastic rapport, both deliver technical fireworks, as if daring each other to raise the bar higher each time.
Cheering, clapping, foot stamping that echoes the same on stage. Carlos Acosta, undertaking a new production in 2013 of Petipa's classic (and one mustn't forget Gorsky's subsequent Stanislavskian innovations), said he wanted it to be "funny, energetic, playful and sexy… over the top and satiric". And it is. He also brings a natural ease to the pastiche Spanish flavour: castanets, fan play, guitarists on stage around a gypsy campfire, gypsies shouting encouragement; dancing on table tops, on wagons, everywhere one looks.
Tim Hatley's flamboyant (I'm thinking of his giant psychedelic flowers in the act two vision scene) design brings an exuberant merriness to the staging: a crimson setting sun, a windmill that skitters about the stage, growing ever bigger, houses that shift in and out of view, costumes that sizzle. Rocinante, Quixote's poor old drooping nag, its stuffing sagging, is also on casters.
The prologue sets the tone of magical realism. Christopher Saunders is an endearing, deluded, impoverished old man with an overdeveloped sense of honour and a rich imagination. His realistic period bedroom is invaded by ghostly hallucinations of his ideal woman Dulcinea (she looks as if she has drifted in from act two Giselle) and four KKK demons in black. His hungry squire (David Yudes replacing Philip Mosley as a well-padded Sancho Panza) is game for anything, even to being teased and tossed in the air by ragamuffins in the next village as long as he can get some food.
The village square bustles with good-natured activity, there are women throwing oranges from balconies, boys and girls playing at bullfighting till a real matador, Espada, turns up with his boys in red (Benjamin Ella catches my eye) who show off their machismo moves. Mercedes, his woman, is none to happy with his womanising. Ryoicho poses handsomely and Laura Morera is aflame: a touch of Carmen.
Acosta has taken the starch out of classical ballet. There's plenty of slapstick, and a rich fall guy, Gamache (Bennet Gartside), in his turquoise plumed hat and Louis XIV shoes with something of Alain from La Fille mal gardée and Le Bourgeois gentilhomme about him. Still he gets a girl in the end, a peasant girl only too happy to be hitched to a rich man. After he's suffered the ignominy of being hit in the face with a big fish.
But it's the couple at the heart of Don Quixote, the girl Quixote saves from an arranged marriage with Gamache, Kitri, and besotted Basilio (Muntagirov enjoying his panto moment of playing dead) who get most of our attention. I can't get enough of them. Never mind the girls in tutu in act two in Quixote's dream vision… actually do mind the excellent corps weaving pretty patterns à la Swan Lake and La Bayadère. Anna Rose O'Sullivan as Amour and Fumi Kaneko as Queen of the Dryads outdo each other in their grands jetés. Nuñez is in this dream too—regal, serene, a prima ballerina in her prime showing her range.
The figment of several imaginations, Acosta's Don Quixote is a tremendous production that shows off the company to advantage. All seem to be investing energy and characterisation even in the smallest roles, all individuals in the crowd scenes. Gary Avis as Kitri's mercenary father, innkeeper Lorenzo, strays not for a second out of character.
Kitri flounces and taunts Basilio, plays hard to get, offers him to her girlfriends (Yuhui Choe and Beatriz Stix-Brunell), dances with Quixote till the scene freezes and in bourrées Dulcinea. But we know, after leading him a merry and tender dance, she is as besotted with him as he with her. He steals a kiss; she stomps on his foot then kisses him. It's going to be a fine marriage… poor boy.
Nuñez and Muntagirov are indelibly imprinted on my mind's eye: their breathtaking gala performance, one hand lifts, splits and scissor jumps in the air and complex twisting turns from him, elegant musicality from her, such nonchalance, such facility. In their element, relaxed, living the dream.
The Royal Ballet has several casts to choose from in its run of seventeen performances and Don Quixote will go out live to cinemas on 19 February: an energetic generous production (three hours including intervals, two hours of dancing all told) to warm the cockles of one's heart.
Reviewer: Vera Liber