Don Giovanni
Wolfgang Amadeus Mozart
Welsh National Opera
Mayflower, Southampton
(2011)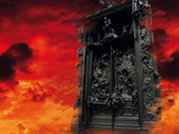 The other mood of Mozart is compellingly revealed by Welsh National Opera in this powerful production of Don Giovanni directed by John Caird and the team responsible for the current London staging of Les Miserables.
In sharp contrast to the light spirit of The Marriage of Figaro, Giovanni presents us with Mozart's view of a darker world gone awry.
Comedic it may be in dramatic terms, especially when seen through the eyes of Leporello, excellently sung here by the bass/baritone David Soar, yet it illustrates the fate of a man whose challenge to God ends with his own destruction.
John Caird conveys all this with the excellent work of designer John Napier, whose majestic setting was in perfect harmony with the piece, and the Catalonian costumes of Napier and Yoon Bae.
The distinguished North Wales baritone David Kempster, in the title role, performed an act of some self-sacrifice, continuing in the role despite a seasonal throat problem and ensured our continued enjoyment without performing at his powerful best.
Donna Anna is charmingly sung by award winning Welsh soprano Camilla Roberts and there is a strong performance by Nuccia Focile as Donna Elvira, prompting an ovation for her "Where shall I find the traitor".
There is much applause too, for the performance of the young tenor Robin Tritschler as Ottavio, memorable for the eloquent Act 2 aria "Speak to me for my lady".
Charm, also, in the singing of the rising young Lancashire soprano Claire Ormshaw as Zerlina and another young singer Gary Griffiths as Masetto.
Bringing the legend to a stern conclusion is the rich bass of Carlo Malinverno as Commendatore.
The delightful choreography is by Kate Flatt and the performance was under the baton of WNO's German music director, Lothar Koenigs.
Reviewer: Kevin Catchpole