Don John
Adapted by Emma Rice and Anna Maria Murphy from Don Giovanni
Kneehigh Theatre (in association with the RSC and Bristol Old Vic.)
Northern Stage and touring
(2008)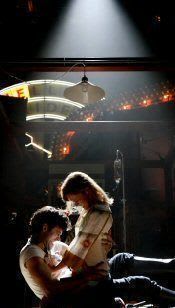 It's 1978, strikes and unemployment are in the air but so is the possibility of change. Workless men hang disconsolately around the streets, popular music shifts between bouncy and Punk, and there's always energy fizzing somewhere as someone grabs the main chance. This is the setting of Cornish company Kneehigh's reworking of the Don Juan story. To be more precise, this is a rethinking of the Lorenzo da Ponte libretto for Mozart's Don Giovanni, itself the adaptation of an already well-established dramatic plot.
Given that there are other, non-musical versions of the story, the choice to draw so heavily on what was written as the framework of an opera does raise some questions. Every so often a musical phrase from Don Giovanni punctuates the action and underlines the relationship between source and adaptation, reminding us that da Ponte's rather lop-sided dramatic structure becomes satisfying exactly because Mozart's music is its extra dimension, the medium which sustains a depth of characterisation and a thematic coherence that the bare bones of the play never quite provide. Kneehigh do have musicians on stage, members of the cast belt out original songs with gusto and recordings from the period set the scene and highlight the action, but even so I felt torn between wishing this was really Don Giovanni and simultaneously wishing the company had moved further away from their source material to create something entirely their own.
The opening is bleak and slow, as stodgy clergyman Derek entirely fails to respond to the needs of his careworn wife. Anna is tending a dying father, snatching a little alcoholic consolation and craves passion as a release. Neatly solving a problem from the original (what did Donna Anna think was going on in her bedroom and what did Don Giovanni actually manage to do?) she is blindfolded by her own bandeau and invites sex with a stranger she thinks is her husband. It's only rape when she realises her mistake, following which her father defends her with his military revolver and is accidentally shot by Don John. At this point part of the audience must suddenly have realised how closely Don John would play its variations on the opera plot, which inevitably meant that for the rest of the evening we were caught between comparison and expectation. I wonder how it "read" to those who knew nothing of the Mozart and weren't tempted into this rather insidious game.
Judging from the response of some of the younger audience members, they were happy to take the story on its own terms and watch it unfold as it went. As Don John, Gisli Orn Gandarsson presented an embodiment of louche, self-interested desire, predatory because always caught in the moment and unable to build on previous experience except by listing it as conquests made and therefore finished with. The notorious list became a slide-show, with side-kick Nobby always on hand to photograph the next woman to succumb, thereby freezing her at the moment beyond which she could be of no interest to the pair of them. Of course, the plot doesn't let this happen – neither man knows that the list is actually completed because the last three women who should appear on it have other ideas. Anna fights back, Zerlina (the Cleaner) realises that seduction only fulfils short-term desires and businesswoman Elvira displays her own version of erotic obsession in her single-minded pursuit of her seducer. Their range of responses was perceptively explored, with Patrycja Kujawska's lithe, sexy Zerlina especially telling and touching in the way that she could be seen moving on from her mistakes to make fresh decisions. Fiancé and husband Alan and Derek were played essentially as comic foils, emotionally sound but less able than their partners to apprehend subtler implications. While their physical routines certainly got laughs, I found the shifts in tone far from seamless, especially as the darker emotional moments were played with considerable intensity. The roller-coaster ride from the agonising to the absurd and back again jarred, but no doubt the contrast was deliberate.
To some extent this difficult terrain was navigated by Nobby, the Leporello figure played by Kneehigh stalwart Mike Shepherd as a seedy extension of Don John, conjoined in ways that he could never admit or explore, the seducer's apologist and sidekick but also his partner, strutting in the same reflected glory that he knows makes him pathetic. The nuances of this performance showed how the source material could be revitalised, as did the moment when the ghost of Anna's father (coming as a bit of a surprise if you weren't expecting the Commendatore's traditional last-minute reappearance from the grave) was greeted by his daughter in a rapturous reversion to childhood. Don John's death by pill-popping was rather flat, and the second half did seem to run out of steam by sticking to the structure of an opera which by this stage is saying it all with music. However, the use of language was a telling compensation, as was the energy of the ensemble, and the production did capture that essential sexual dynamic which has to show an audience just how vulnerable to seduction it is, while still allowing it to step back smiling from the edge.
David Chadderton reviewed this production at The Lowry, Salford. It was also reviewed by Lucy Ribchester in Bristol and by Philip Fisher at BAC.
Reviewer: Gail-Nina Anderson